Harper's Bazaar

Ozzie Winner: Best Cover, Best Use of Photography, Consumer above 250,00 circ.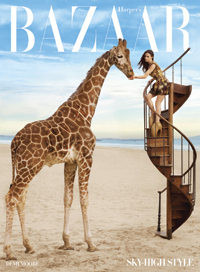 Last fall, Harper's Bazaar won Cover of the Year from the American Society of Magazine Editors for its December 2009 issue featuring the lead actors from the "Twilight" movie franchise. This year, the magazine continues its winning ways, earning a Best Cover Ozzie for its April 2010 issue and a Best Use of Photography Ozzie for the September 2009 story "Wild Things."
The concept for the winning cover started with one word: "giraffe." "We were sitting in [editor-in-chief Glenda Bailey's] office one day and she just said, 'giraffe,'" according to special projects director Laura Brown. "We've wanted to work with a giraffe for a while, but previous concepts had been challenged. We knew we were featuring Demi Moore, who is very adventurous-minded. It's good to know you have a cover subject willing to do something adventurous and hopefully, iconic."
The shoot focused around Moore's "dream life" and featured the actress in a variety of surreal photos (shot by photographer Mark Seliger) that emphasized conflicting scale, such as the image of Moore standing on a staircase in the middle of a beach nuzzled by a giraffe.
As might be expected, the giraffe was the biggest challenge. "After every shot we had to walk it around in a circle," says Brown. "It was one of those situations where we were losing light but we ended up with a perfect moment where everything came together."
For its Best Photography Ozzie, Harper's Bazaar produced a gallery called "Wild Things" that features model Naomi Campbell cavorting with a series of "wild" animals in shots that range from Campbell racing a cheetah to playing jump-rope with monkeys.
Photographer Jean Paul Goude sketched and storyboarded the images before shooting. "People responded not only to the fantasy of it, but also to the fact that it had a wit, a warmth and an energy to it," says Brown.
While newsstand covers for Harper's Bazaar often follow the tried-and-true formula of model/actress on the cover, the magazine can get adventurous with subscriber issues. "Subscribers are a little more indulgent and we can play around a little more," says Brown. "The extension of that is what Jean Paul did with Naomi because it's such a fantasy."
Meet the Author
---