Harper's Bazaar Loves Advertisers So Much, It Devotes 40 Editorial Pages to Them

No Swarovski crystals this time, but just as slippery a slope.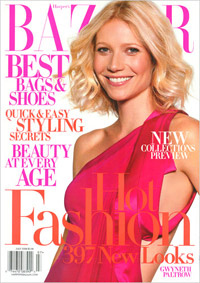 The July issue of Harper's Bazaar, a magazine, like many fashion titles, straddles the increasingly blurry border between appeasing advertisers and upholding editorial ethics, devotes 40 editorial pages to four women: Gwyneth Paltrow, Elizabeth Hurley, Carolyn Murphy and Hilary Rhoda. They are also the collective faces of Sensuous, a new Estée Lauder fragrance.
"Like many magazines, we often feature celebrities to coincide with their beauty and fashion launches," Alexandra Carlin, the director of public relations for Hearst Magazines, said in a statement sent to the New York Times. (A recent issue of Nylon, the paper points out, features Chloë Sevigny and two models—the faces in a campaign for Chloé perfume—on its cover. An ad for the fragrance ran on the back cover of the same issue.)
More troubling, though, is the signal something like this sends to other advertisers:
Kim-Van Dang, a former beauty director at In Style and Good Housekeeping magazines, predicted that other companies will brandish Bazaar, demanding similar editorial attention.

"Advertisers have something to show now and say, 'Why am I not getting this treatment?' " Ms. Dang said. She recently started a marketing firm, KVD NYC, and has consulted for Lauder. "In the current economy, I think advertisers have more muscle."
Then again, we've seen this kind of thing from Harper's Bazaar before.
In December, Harper's Bazaar partnered with Swarovski to embed a special edition of its December issue cover with Swarovski crystal elements. Some 258 amber-colored elements were hand-affixed to 5,000 copies by Swarovski to the word "Fabulous" in the main cover line.
And it's not just fashion advertisers who are putting pressure on publishers to bling, err, bend the rules. At a magazine conference in April, Steve Sturm, group VP of strategic research and planning at Toyota Motor North America, said magazines need to realize that their readers don't care as much about editorial ethics and the concept of a church-state line as publishers—if at all. "[The line] has been self-governed and self-policed—you've put the handcuffs on yourselves," Sturm said. "The federal government, the state government, they haven't told you to do it. You put up all these roadblocks" that other media don't have. A younger generation of potential readers, he said, "don't play by the same rules you play by."
Meet the Author
---