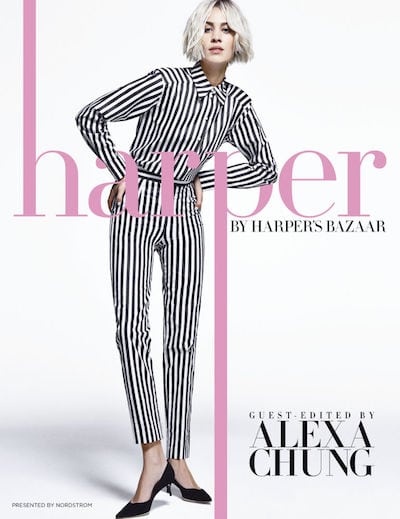 Harper's Bazaar is launching a targeted supplement for a younger audience with its upcoming March issue.
The 24-page book, titled harper, will be guest edited by Alexa Chung and is sponsored by Nordstrom.
"BAZAAR created Junior Bazaar in the 1940s, and today we're pleased to introduce harper by Harper's BAZAAR, a younger-sister supplement to the magazine," says Harper's BAZAAR editor-in-chief, Glenda Bailey.
The supplement will have a print circulation of 375,000—about half its total paid circulation, per the Alliance for Audited Media—and digital distribution of 8.1 million.
"We couldn't be more pleased with harper by Harper's BAZAAR," says Carol Smith, the magazine's VP, publisher and chief revenue officer. "It's fun, fresh, and appealing. And it's not only an insert in our spring fashion issue—it expands beyond print to digital, social, and shopping. The response has been so strong that we're planning to keep it going in future issues, with each having a guest editor giving it a new and different voice."
As Smith says, they're planning on continuing the franchise. The next issue of harper will be out in May.