Harper's Bazaar 'Twilight' Cover Named ASME's Cover of the Year

Issue beats out 11 other category winners.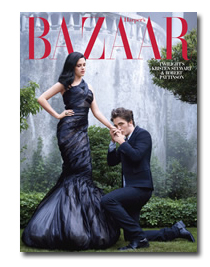 CHICAGO—The American Society of Magazine Editors announced here today that the December 2009 issue of Harper's Bazaar, which featured the lead actors from the Twilight movie franchise, was named 2010 Cover of the Year. The announcement was made by ASME president and People magazine managing editor Larry Hackett at the MPA's American Magazine Conference.
The winning cover was chosen again this year by Amazon.com customers. The Harper's Bazaar cover [the version sent to subscribers, pictured] beat out 11 other category winners for the top recognition (the issue won the "Best Vampire" category previously).
Last year, Amazon.com customers voted the July 10-24, 2008 issue of Rolling Stone, featuring Barack Obama, as cover of the year.
For the full list of this year's cover finalists, click here.
Meet the Author
---