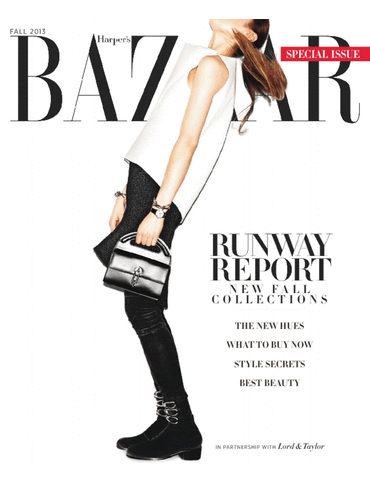 Harper's Bazaar announced a new digital-only series for 2014 called Harper's Bazaar Reports. The first of the series will be Runway Report—the brand's first click-to-buy electronic special interest publication. The October 2013 Runway Report, created in partnership with high-end American retailer Lord & Taylor, is the first of six Harper's Bazaar Reports planned for release in the next year.
"Runway Report appeals to our discerning reader," says Carol Smith, Bazaar vice president, publisher and chief revenue officer, in a statement. Smith says the report is perfect for consumers "deconstructing the runway and digitally scaling our editors' picks as one master shopping list."
Of the half-dozen issues planned, two are specially dedicated to runway collections and beauty and luxury extras, respectively.
Runway Report's digital-only nature helps link the title to the Lord & Taylor directly, organically driving consumers from the page to the online storefront through its Web site runwayreport.harpersbazaar.com and via download with the purchase of Harper's Bazaar's October issue.
The reports will also be available on digital newsstands at a $6.95 cover price.