Harnessing a Blogger Network

Clever Girls Collective launches tech platform to manage campaign impact.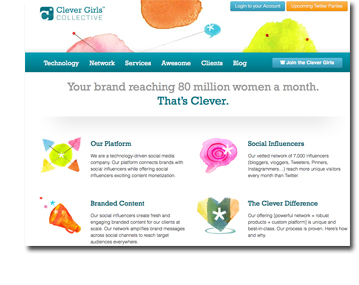 Except for the breakout stars, an independent blogger's influence is tough to quantify, and reach may not be at the scale a brand is looking for. This is why so many publishers and other organizations have been busy rounding up bloggers to create a networked market vertical—achieving instant scale and a potent social outlet for brand marketers. Complex, Federated Media, Forbes, Glam and a host of others touch on this model in one form or another.
Clever Girls Collective, a four-year-old, San Francisco-based blog network, recently launched a new measurement platform to support campaigns across its collection of about 8,000 women bloggers.
Called Fanny, the platform underpins the company's network and allows blogger members to manage their profiles and sign up for specific branding campaigns. It also logs the data associated with a branding campaign which might utilize hundreds of bloggers through specific content postings and social shares.
"Brands want to access social and bloggers want ad revenue. We're in the middle joining the two," says Clever Girls president Stefania Pomponi. "Brands also want smart ways for outreach and right now they can be inefficient and clumsy and we want to make that process as painless as possible."
A third element joining Clever Girls' network and technology models is a creative agency that helps brands build specific content marketing campaigns.
Clever Girls both recruits and accepts applications from bloggers to join the network. The company also partners with publishers to amplify a particular campaign—Federated Media is a sometime competitor and partner—particularly when brands running a mass-market campaign want to supplement it with mid- to smaller-market bloggers.
Clever Girls tracks about 2.5 million page views per day across close to 60 million monthly uniques.
Using Fanny, bloggers can track and sign up for the campaigns currently being run across the network—between five and eight are run per day, says Lindsay Silver, vice president of technology.
Between 800 and 1,200 bloggers usually apply to be part of any given campaign—50 to 500, depending on the campaign, are selected.
A recent campaign for Calphalon cookware in a partnership with Publishing Group of America's Relish magazine, for example, used a slice of Clever Girl bloggers to post stories and videos about using the pans to cook recipes.
"Relish used that content on their site, used the promotion to point to their site and the bloggers used the content on their own sites and through their social networking. It was a huge firehose of content going in all directions," says Pomponi.
Campaigns range from blogger-based programs to visual social network projects and Twitter-based programs.
Bloggers who are accepted for a particular campaign can be paid an average of $100 for a 300 to 500-word post, or as much as $500 for a video post. Silver says bloggers are not told what to write. "It's up to them to create what they want," he says.
Project managers track the content progress of bloggers assigned to a specific campaign and once it's over, the agency team uses Fanny to produce reports from the data generated from the campaign.
Meet the Author
---