Hard-Hit Niche Publishers Rethink Sales Strategies

Publishers up accountability, packages.
The Publishers Information Bureau's 2008 year-end report made it painfully official: Ad pages in consumer magazines took a massive blow last year, dropping 11.7 percent when compared to 2007. While some like Scholastic Parent & Child (28 percent) and Technology Review (21.5) saw significant ad page gains, the ailing financial market severely impacted niche publishers, with some of those serving the auto, business/finance, home and music industries taking the hardest hits.
Many publishers are looking for new ways—from increasing accountability to regrouping product offerings—to meet advertiser expectations and capture their ad dollars in 2009.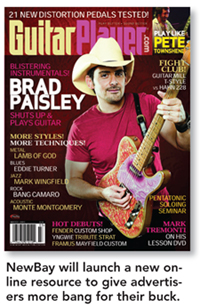 Increasing Accountability, ROI
John Pledger, vice president and group publishing director of NewBay Media's Music Play Network and Pro Audio Group, projects first quarter 2009 ad revenues for his groups will be down roughly 10 percent.
"In the large-circulation guitar segment, our larger, more corporate advertisers with multi-brand/product lines that had typically run multiple insertions—at an appreciably high yield—are now pulling back to single insertions and, in some cases, going dark completely through the end of the year," he says.
In addition to asking for rate reductions, Pledger's advertisers, like many others, are looking for more quantifiable buys. In turn, Pledger says he and his team are developing resources to help his clients sell, including a new online resource for both manufacturers and end users dedicated exclusively to music industry product listings and retail locations. The site will incorporate both peer and professional product reviews and product demo videos. "Manufacturers and retailers will have the opportunity to promote national or regional promotions, in-store events or other specials they have going on," says Pledger.
Increasing accountability also is a priority at Hachette Filipacchi Media's Car and Driver and Road & Track. According to John Driscoll, vice president and group publisher, while total ad revenues are down overall, he's seeing his advertisers increase their spend in areas other than print—namely online, events and research.
"The auto industry is at the epicenter of the current financial crisis and our titles have been impacted because our core client base—car companies—are under extreme pressures right now," Driscoll says. He and his team this year will work to expand the Jumpstart Automotive Media partnership, a sales program launched in June 2007 that includes more than 350 "measurable" digital products and brand extensions, including events, radio and CRM.
Reexamining Product Grouping
As one of the larger niche/enthusiast publishers, F+W Media hasn't been immune to the ad revenue falloff. With ad revenues declining (starting most notably in September), F+W last fall underwent a company-wide reorganization, grouping its products not by channel but according to 15 "communities," each led by a publisher/editorial director.
"We believe this will help sales of all of our products as there are many cross-selling and also cross-content opportunities," CEO David Nussbaum tells FOLIO:. "Although we are not forecasting much in the way of revenue growth, we believe that our margins will grow handsomely as we leverage the market expertise that was not resident in the vertical organization will be resident within communities."
Nussbaum is forecasting new "organic growth products in the several million dollar range." Also as part of the new structure, F+W has e-commerce and offline marketing teams managing customer relationships and launching online stores for each community.
"It's clear that when the economy is difficult, people rely on their hobbies as a way to 'escape,'" he says. "We believe the ad downturn we're seeing is manageable."
Meet the Author
---