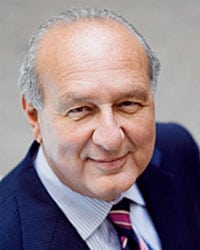 Folio: has named one of the most influential and respected thought leaders of the last two decades, Frank Anton, to serve as facilitator of its innovative CEO Summit, to be held in New York on October 19th.
The Summit is an extraordinary educational and networking event designed to bring together a select group of the top strategic leadership teams in magazine media to discuss how to innovate today, and how to plan for tomorrow.
Anton, who was CEO of Hanley Wood from 2005 to 2012, is universally recognized as one of the most accomplished and creative b2b media executives of the last 20 years. As CEO, he led a dynamic and strategic shift in how the construction-media company went to market with a network of magazines, websites, e-newsletters, trade shows and conferences, marketing solutions, and data services. He served as president for a decade before that, driving the strategies that produced unprecedented growth. Anton began his career at Hanley Wood as editor and publisher of BUILDER magazine, one of the company's flagship titles.
"While chaos seems to reign in what used to be called publishing, the role of media really hasn't changed," says Anton. "Engage an audience, then connect it in a meaningful way to what used to be called advertisers. What has changed—and continues to change—is how to engage an audience, how to connect it, and how to make money doing so."
The Summit will in effect be a think tank for the C-Suite about how to address opportunities and challenges around competition, growth and change in the fast-moving media universe. Anton's role will be to direct the day's activities, leading speakers and alike to dig deeper and find more sophisticated and realistic solutions, to serve as equal parts MC, provocateur, and idea provider.
"I couldn't be happier to have Frank as part of this event," said Folio: Vice President Tony Silber. "He's a brilliant media strategist, a demanding day-to-day leader, and a charismatic leader. He'll drive extraordinary value for our participants on October 19th."