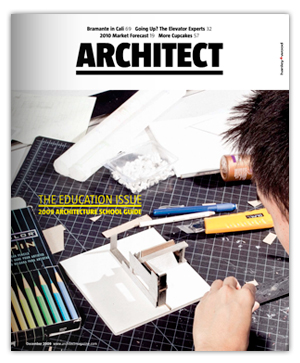 The American Institute of Architects has selected Hanley Wood's Architect and Residential Architect as the association's official magazines. As part of the partnership—which has been agreed upon in principle and is expected to become effective in 2011—Hanley Wood Exhibitions will manage the AIA's annual convention.
While Hanley Wood will continue to own the magazines' assets, starting next year it will collaborate with the AIA on editorial planning for both, and the AIA will have a dedicated section in each magazine to contribute content.
The deal effectively ends a similar arrangement the AIA had with McGraw-Hill Construction and its Architectural Record magazine. It was not immediately clear what precipitated the change. Phil Simon, AIA's marketing and promotions managing director, did not return a request seeking comment.
"For the last 10 years, we've had a publishing partnership with the AIA, which concludes in December," a McGraw-Hill Construction spokesperson said. "Working independently, we will be best positioned to provide a trusted voice, to serve the new and emerging needs of the architectural community and to advance our business interests.
 
"It appears that AIA was essentially looking for a custom publication they would control," the spokesperson added. "That is not what the market needs now or in the future."
When contacted by FOLIO:, Hanley Wood CEO Frank Anton declined to comment on the partnership other to say it is "in keeping with our belief that a focus on a single, large market remains the best strategy for b-to-b media companies."
This isn't the first time the AIA has partnered with Hanley Wood. In 1976, the company's founders served as the contract publishers for the association's AIA Journal.
Published 14 times annually, Hanley Wood's Architect targets the commercial construction space and was launched, along with ArchitectMagazine.com, in 2006. It carries a BPA-audited circulation of 58,575. Residential Architect, which launched 12 years ago, carries a BPA-audited bimonthly circulation of 20,000.
Hanley Wood also publishes Architectural Lighting, Concrete Construction and EcoHome magazines.