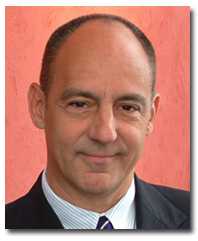 A little more than a year after being elevated to president, Peter Goldstone has been let go at b-to-b publishing giant Hanley Wood.
"Consistent with our business strategy of streamlining our operations into one integrated media organization, our Board of Directors has determined that it is appropriate to restructure our senior management team by eliminating the position of president," Hanley Wood CEO Frank Anton says in a statement e-mailed to FOLIO:. "As a result, Peter Goldstone is leaving the company, effective immediately."
Anton says no other senior management changes are planned "at this time."
Goldstone [pictured] was promoted to president of the overall company in July 2009 after serving as president of Hanley Wood's business media unit. As company president, he continued to oversee the business media operation as well as the exhibitions group (following the departure of exhibitions group president Galen Poss and group executive vice president Michael Green the previous month).
Hanley Wood, once considered one of the biggest and most innovative trade publishing companies in the industry, has presumably taken a financial beating amid the collapse of the housing and construction markets. The company publishes more than 30 magazines and Web sites, 35 conferences and nearly 20 trade shows.
Media industry private equity firm Veronis Suhler Stevenson sold Hanley Wood to JP Morgan for $650 million in 2005.