Hanley Wood To Fold Two Magazines

Building Products and Big Builder shutter; eBuild.com downgrades.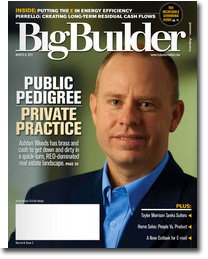 Like the construction industry it follows, b-to-b publisher Hanley Wood continues to trim its business operations. FOLIO: has learned Building Products magazine will fold with its last 2011 issue, as will Big Builder magazine. These closures follow the sale of Pro AV to NewBay Media in mid-September.
Though the website will still operate, eBuild.com (a directory of building materials and construction tools) will no longer develop its online product directory. Frank Anton, CEO of Hanley Wood LLC, tells FOLIO: in an email, "Our audience increasingly uses manufacturers' websites to collect product information."
Anton says these changes are partially due to changing consumer habits, "Product tabloids [like Building Products] are no match for online search."
Big Builder's closure is a result of the still struggling construction sector. "This magazine, which served a large volume builder market that has almost been destroyed by the housing downturn, no longer attracted sufficient advertising," says Anton.
On the decision to fold these titles, Anton says, "These shutdowns are part of an ongoing process to right size our portfolio; like the builders in our audience, we simply had too much inventory. They had an oversupply of houses; we had an oversupply of advertising-driven media. Supply must match demand."
These changes come on the heels of Hanley Wood embarking on a "digital-first" approach that includes the centralization of editorial resources to Hanley Wood headquarters in Washington, D.C. At the time, Anton reiterated the importance of print to the company, "I emphasized that part of the process would be to make sure the magazines are protected and, in fact, would benefit from this reorganization–we will NOT stopping printing magazines."
In early August, Moody's Investor Services said Hanley Wood revenue has fallen "below the level at which the company can cover its fixed costs and it continues to consume cash", and the company will mostly likely have to restructure.
Anton would not comment on the size of Hanley Wood's debt or an impending restructure, saying only, "We strongly believe the company has sufficient liquidity to fund day-to-day operations in the foreseeable future."
Meet the Author
---