Hanley Wood Expands, Finalizes Agreement with Association

Architect to become official magazine of the American Institute of Architects.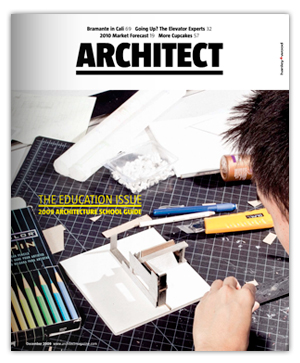 Hanley Wood and the American Institute of Architects have finalized a five-year agreement that has Hanley Wood Exhibitions managing the annual AIA Convention and Design Exposition and Architect magazine becoming the association's official publication. The magazine will maintain its editorial independence, the publisher says, but also will feature exclusive coverage of AIA programs and other initiatives.
AIA selected Hanley Wood in January to begin negotiating a plan for managing the association's annual event and official magazine. In addition to those original objectives, the final agreement now calls for AIA members to receive digital editions of Hanley Wood's Residential Architect, EcoHome and Eco-Structure magazines and full access to those Web sites, as well as the formation of an editorial advisory committee, joint research initiatives and other support for AIA chapters.
According to Hanley Wood CEO Frank Anton, the agreement became "broader in scope as during the negotiation we found additional areas where cooperation would benefit, Hanley Wood, AIA and the profession. That leaves us more convinced than ever that this agreement will allow us, over time, to dominate the commercial construction market as we do the residential construction market."
The AIA's agreement with Hanley Wood becomes effective January 2011. The association's current agreement with McGraw-Hill Construction and its Architectural Record magazine expires at the end of this year.
Meet the Author
---