Handicapping the Ellies Race

FOLIO:'s 2008 National Magazine Awards primer.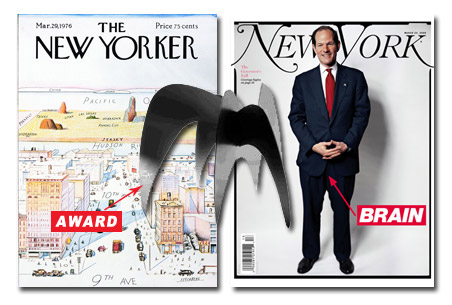 Tonight's 2008 National Magazine Awards, like most industry
awards shows, expects to be an uneven, awkward affair (these are, after all,
magazine editors, not actors and we all know how those awards shows devolve.)
The New York-centric argument aside (see this
post—"Have
the National Magazine Awards Become Too New York-Centric?"—for background)
the races themselves are always entertaining.
For those of you with Ellies office pools (there must be
one, right?) here's a handy guide to five of the night's most intriguing races:
GENERAL EXCELLENCE ONLINE: This category recognizes
outstanding magazine websites, as well as online-only magazines that feature
original content. The award honors sites that convey a distinct editorial
identity and create a unique magazine environment on the Web.
Babble.com
Chow.com
NewYorker.com
RunnersWorld.com
Slate.com
FAVORITE: NewYorker.com

OUR PICK: Babble.com

LONG-SHOT: Chow.com
THE SKINNY: Given its history of winning here and its slew of
nominations, the New Yorker should be favored in any category it's been
nominated. But a couple of pure plays—Babble.com and Slate—figure to give the
New Yorker a run for its money. Babble, Nerve.com's gurgly spin-off, has the
edge here.
GENERAL EXCELLENCE: Circulation 100,000-250,000
Foreign Policy
Mother Jones
Paste
Philadelphia Magazine
Radar
FAVORITE: Radar

OUR PICK: Foreign Policy

LONG-SHOT: Philadelphia

THE SKINNY: This is an interesting one, as each magazine nominated here is
probably looking at itself as an underdog. It's penchant for hiring columnists
from the Hills aside, Maer Roshan's Radar—now in its third iteration—should win,
but Foreign Policy, a criminally underappreciated D.C.-based magazine, would be
my choice. If it wasn't its first nomination, Paste—a forward-thinking music
magazine that's not afraid to experiment with ads and subscription models—would
be my pick.
GENERAL EXCELLENCE: Circulation over 2,000,000
Glamour
Martha Stewart Living
National Geographic
People
Time 
FAVORITE: Glamour

OUR PICK: National Geographic

LONG-SHOT: Time

THE SKINNY: In the big-circ general excellence category, there are no real "underdogs." After, these are the biggest magazines with monstrous revenues. Glamour won last year, but don't be surprised if Time, fresh off its historic 2007 redesign, gets some general excellence recognition.
COLUMNS and COMMENTARY: This category recognizes excellence in
short-form political, social, economic or humorous commentary. The
award honors the eloquence, force of argument and succinctness with
which the writer presents his or her views.
Inc.
New York Magazine
The New Yorker
Rolling Stone
Slate
FAVORITE: New Yorker

OUR PICK: Rolling Stone
LONG-SHOT: Slate
THE SKINNY: A hard-fought race in an election year, as this category is typically dominated by political-leaning columns. Matt Taibbi, Rolling Stone's campaign warrior, deserves an Ellie, even if Jann Wenner, who has done little to improve Rolling Stone's downright archaic Web site, does not.
GENERAL EXCELLENCE: Circulation 250,000-500,000
Backpacker
Cookie
New York Magazine
W
Wondertime
FAVORITE: New York

OUR PICK: New York

LONG-SHOT: Everyone else

THE SKINNY: New York swept the National Magazine Awards program last year, and
while they won't sweep this time around, it would be an upset of Marion
Cotillard-proportions if Adam Moss' magazine didn't win for general excellence.
Meet the Author
---