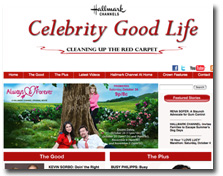 South Carolina Republican representative Joe Wilson's outburst during President Obama's speech to Congress on health care. Tennis player Serena Williams' on-court, expletive-laden tirade. Kanye West's aggressive—however not altogether unusual—behavior during MTV's Music Video Awards.
They all make good headlines. But the Hallmark Channel, a division of Hallmark Cards, wants to know: Has civilization lost its civility? In an affront to all the vitriol that continually makes up news headlines and TV news programs, the Hallmark Channel has created CelebrityGoodLife.com, a site devoted exclusively to positive news about celebrities—from Hollywood to sports, to politics and beyond.
CelebrityGoodLife.com features content from chief correspondent-bloggers Delaina Dixon, who is based in New York, and Daisy Whitney, who is in Los Angeles. The site is live now but is eyeing October 23 for its official launch.
With the tag line "Cleaning Up the Red Carpet," Hallmark is calling the site the "anit-TMZ." "CelebrityGoodLife.com will bring only positive news to the masses who are tired of the mudslinging," Hallmark said in an announcement. "Whether the news is love and marriage, children, chivalry, dream home, dream vacation, enlightenment, or benevolent altruism, Dixon and Whitney will shine a light through every sector of show business, putting deserving entertainers in a favorable spot."
How nice! (Earlier this year Hallmark Cards shuttered its flagship Hallmark magazine. According to spurned subscribers, the way Hallmark handled the shut down wasn't so nice.)
A Hallmark Channel spokesperson told me the site hopes to get to at least 50,000 uniques within the first two months and eventually wants to host paid advertising. Right now, the home page looks like an overt plug for Hallmark's upcoming film, Always Forever, with a large banner ad and a series of five promotional videos at the bottom.
It's true, there is a lot of negative news in celebrity-dom these days. The same can be said for magazines. We've made a big effort to post as many positive stories during these difficult times as we can. But the reality is that negative stories get A LOT more reader/user/viewer attention than the positive ones, even on FOLIOmag.com.