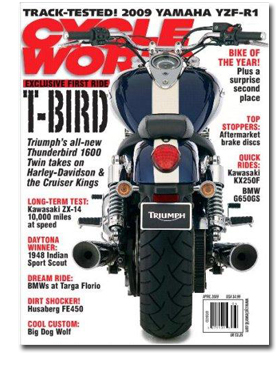 In the publisher's latest step toward organizing its assets into "brand centric" groups, Hachette Filipacchi Media U.S. late Tuesday said it has reorganized the management structure of its Cycle World Brand Group.
As part of the reorganization, executive editor Mark Hoyer was promoted to vice president of brand content and editor-in-chief of Cycle World. Paul LaBella, who served as national advertising director, was promoted to vice president and brand publisher, and marketing director Corey Eastman was named vice president of brand development. Hoyer, LaBella and Eastman will be responsible for content creation, advertising sales and new business development of the Cycle World brand across all platforms.
Longtime Cycle World vice president and editor-in-chief David Edwards is leaving the company, Hachette said. The group will continue to be led by senior vice president and chief brand officer Larry Little.
No layoffs were associated with the reorg, a spokesperson told FOLIO:.
According to Hachette president and CEO Alain Lemarchand, Cycle World is "a full fledged brand with successful extensions beyond the print magazine including digital platforms, radio and branded events. The key to continued success which the new structure supports is brand quality and investment as well as innovation across platforms."
Hachette also said it is upgrading the cover and paper stock for Cycle World, starting with the November issue. The magazine will now be perfect bound and the Web site is being revamped, the company said.
Cycle World carries a monthly circulation of 300,000.
Earlier this year, Hachette announced similar reorganization for its women's titles, shelter titles and automotive magazines.