Hachette Expands Ad Partnership with Shell

Car and Driver, Road & Track and Cycle World to use Shell's fuels for tests.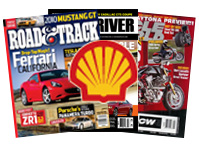 Hachette Filipacchi Media U.S. said it has finalized a 15-month agreement with Shell Oil that "considerably" extends its advertising package.
As part of the agreement, Hachette's Car and Driver, Road & Track and Cycle World will use Shell's nitrogen-enriched gasoline in all vehicle testing and evaluations across the magazines. The agreement does not include all of Shell's products, the company said.
"Shell has run ads with us in the past but, on a recent call about the advancements in fuel technologies, they indicated that they wanted a deeper relationship with these three brands," Hachette senior vice president and brand officer John Driscoll told FOLIO:. "This means Shell is expanding its advertising with us considerably—in print, online, through monthly newsletter sponsorships and in radio."
The campaign kicks off with the October issues of the magazines, which hit newsstands in September. It ends in December 2010 with January 2011 issues.
Beyond the print ads, a Shell logo will appear on editorial data test panels featured in each magazine, indicating that Shell is the official fuel provider. Hachette's editorial teams will also provide content for Shell's Web sites and promotional literature.
"Editorially, I couldn't imagine having a similar agreement with a tire supplier," Driscoll said. "Different suppliers have different fitment issues and might not have a fit for a particular car we're testing. Shell carries unleaded, diesel and motorcycle fuels. We see this as a great way for us to use one gasoline when testing across our brands. It makes sense."
Meet the Author
---