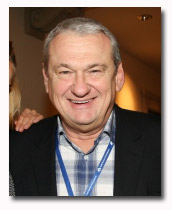 RELATED POST: Why Hachette Dropping Out of the MPA is Just the Tip of the Iceberg
Hachette Filipacchi has dropped its membership in the Magazine Publishers of America.
"These are extraordinary economic times," a spokesperson for the publisher of Elle told Adage.com. "This is one of a number of hard decisions that we are making until conditions change."
Jack Kliger [right], Hachette's longtime chief executive until resigning from his post last year, served as the MPA chairman  from 2005 to 2007. Kliger's tenure was marked by fire-and-brimstone speeches at MPA events.
During his last speech as chairman, Kliger criticized non-member publishers for benefitting from a "free ride."
A representative from the MPA didn't return a request for comment.
But the association is not immune to cuts within its own organization. In September, the MPA made laid off seven staffers, leaving 36 employees. At the time, MPA spokesperson Howard Polskin
said the layoffs
"reflect what's going on in the economy. We have to position ourselves
accordingly."