Hachette Closing Metropolitan Home

Third in its category, the magazine will cease after its December issue.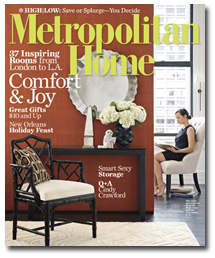 The shelter category has been especially brutal this year, and has just claimed another magazine. Hachette Filipacchi Media U.S. announced today that it will be closing Metropolitan Home. The December 2009 issue will be its last.
Alain Lemarchand, president and CEO, made the announcement this morning in a release, which said that resources will be applied to Elle Decor instead. Lemarchand said Elle Decor is the ad-page leader in the U.S. When contacted, a spokesperson said Metropolitan Home was third in its category.
So far, the editorial team has been hardest hit, with editor-in-chief Donna Warner and 12 other editorial staffers losing their jobs, according to the spokesperson.
Staffing on the business side of the magazine is still being figured out. "The sales side has not been determined because they're moving the business side under Elle," said the spokesperson. "That's going to take some time to figure out. It's just editorial today."
Deborah Burns, chief brand officer of the previously two-title Luxury Design Group, will remain with the company. Elle Decor will be moved under the Elle Group.
The magazine's Web site, as it exists in the PointClickHome.com umbrella brand it shares with Elle Decor, will be discontinued as well.
Eventually, the site will revert to the Elle Decor brand only.
 
Metropolitan
Home has a rate base of 550,000 with a shrinking newsstand presence and ad page count. While it represented a small percentage of circulation, newsstand has shrunk from about 9.5 percent to 7.6 percent, or to about 42,000 single-copy sales per ABC Publisher's Statements. Year-to-date
ad pages shrank 33 percent to about 466 pages, per PIB.
Hachette has been spending the year reorganizing its titles into new, brand-centric groups, most recently reconfiguring its Cycle World group. The Women's and Auto brands were also reorganized.
Meet the Author
---