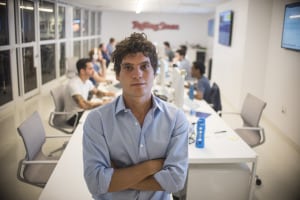 Following the announced sale of Us Weekly to American Media Inc. a few weeks ago, we published a column titled "What Could be Next for Wenner Media." It suggested that the company ought to invest heavily in its 50-year-old flagship Rolling Stone, and go big with video. Since it was a purely speculative piece of unsolicited advice, we decided to actually speak to Gus Wenner, the head of digital, and heir apparent to the Wenner Media legacy. We wanted to see if what we published had any merit. And we also wanted to hear firsthand where the company is going from here. After all, it's about to close the deal on a $100 million sale of Us Weekly, and as a consequence, become debt free. It isn't likely to just sit on all that money.
Folio: You're about to finalize the Us Weekly deal, and get a healthy cash infusion that will allow you to pay off your debts. So what's next for Wenner Media?
Gus Wenner: Let me start by saying what the motivation behind the deal was. It does allow us to pay off all our debts, but it also reduces our print exposure significantly. After the deal closes, our print/digital ratio will be about 50/50, which is fantastic. It gives us the resources, and bandwidth and capital to focus on what we believe in most.
Folio: Where will you be seeking new investment opportunities?
Wenner: Video is the most important piece. We see an enormous application for Men's Journal and [gamer vertical] Glixel in the video realm. With Rolling Stone, we built a team of 15 people in video, and we produce and publish 15 videos a day on our website. They are very web-based news videos with motion graphics and we pair them with our most important stories. It's laid the foundation of how Rolling Stone exists online and it's been profitable. And we want to expand on that. And do more longer-form and high-production video.
We'll be adding that layer and making a heavy investment to develop shows, documentaries and movies. As we look at the future of video, it's a natural fit for Rolling Stone and right at the core of what we do—and have done for 50 years.
Folio: You launched Glixel in November. Where is the brand pacing terms of its growth projection?
Wenner: Our principle is based around quality. That applies to all the brands we own and operate. So these first couple months have really been focused on getting the quality and tone right, and production at the right pace, and integrating Glixel's practices and principles in line with the rest of our websites. It's early days in the process but we've seen some nice growth and are on pace with our projections. The past month we hit well over 3M pageviews—and the newsletter is growing as well. We also just closed our first deal with Call of Duty, as well as Annapurna. So there's some nice momentum. But I'm in no rush to have it be this one-off firework initiative. We want to grow it for the long-term.
Folio: Are you kicking around any ideas for new digital or even print verticals?
Wenner: We have so much on our plate. We're focused on closing the Us deal and moving into the first steps of expanding and investing in Rolling Stone, Men's Journal and Glixel, more than we have in the past several years. Having the resources and bandwidth to do that is a fantastic luxury. Our immediate focus is really going to be on seeing that potential—particularly with Rolling Stone. But long-term I want to diversify the business and move into other areas and revenue streams.
As for print, there's no ruling it out. It's a big part of our DNA and a differentiating point for us. The product has to evolve and we've taken steps to do that and make it a more long-form product. If you look at the ecosystem on the whole, it's a fantastic piece of who we are. Not to mention the covers mean so much and are such a powerful asset. But digital is soon to be our overall driver of revenue. And we'll continue to travel in that direction.
Folio: It sounds like Rolling Stone will continue to be the company's focal point. So what would your ideal vision be for the brand a few years down the road?
Wenner: It's a big question. One of the phrases I use a lot with our team as we start to drill down on the growth initiatives we'll pursue is "the world of Rolling Stone." It's a brand that has power that we can leverage. It has an emotional affect on our audience. At one time it existed only as a magazine but now it's a website; our social channels have over 20 million followers; and the brand exists in video. That's where we are today, but if we look five years down the road, we want to expand that world and connect the dots. That includes everything from events to TV, to film, to hospitality. The key theme to it all is quality and storytelling, and those are the things we hang our hat on and that define us. We don't want to undercut the brand or its standards. We want to build on them. We want a broad experience. And we want to play offense instead of defense.