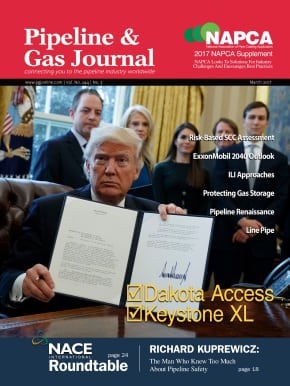 Gulf Publishing Company has made its first major move since spinning off from its former London-based parent via management buyout last August.
The Houston-based trade publisher serving the global energy industry announced yesterday its acquisition of Oildom Publishing Company, also Houston-based, including its flagship monthly, Pipeline & Gas Journal, as well as Pipeline News and Underground Construction magazines and a pair of related trade shows. Terms of the deal were not disclosed.
The move, which expands Gulf Publishing's portfolio to encompass seven media brands — including World Oil and London-based Petroleum Economist — is part of a strategic effort to position the company as the leading source of business intelligence in the global oil and gas industry, according to president and CEO John Royall.
"We are the go-to resource for our clients," added Royall in a prepared statement, "and Oildom's people, products and services are an excellent complement to our organization as they extend our global leadership to the midstream and utility sectors."
Oildom owner Olive Klinger III plans to retire, according to the statement, but will keep an advisory role. Klinger's grandfather, an engineer for ExxonMobil predecessor Standard Oil, founded the company in New York's Woolworth Building in 1908 — just seven years after the start of the Texas oil boom, which would last for decades.
Oildom publisher Cleve Hogarth, however, will shift to Gulf Publishing following the acquisition and maintain his current responsibilities.
"Combining with Gulf Publishing's strong capabilities in digital, data management, and global reach allows us to take the Oildom media brands to the next level," added Hogarth in the statement.
Longtime publishing industry investor Russell Denson, who serves as chairman of Gulf's parent company, Gulf Publishing Holdings, led the acquisition with financing from Houston-based Main Street Capital.