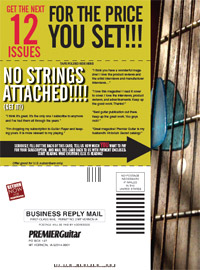 A week after Paste magazine launched a Radiohead-inspired campaign allowing subscribers to name their own price for a year-long subscription, Premier Guitar magazine is set to do the same.
The Cedar Rapids, Iowa-based monthly for "serious and accomplished guitarists" is wrapping 10,000 copies of its December issue with a "pay what you want" subscription card and sending them to non-subscribers. The magazine's 15,000 paid subscribers will receive a letter alerting them of the initiative. (Last month, Radiohead allowed fans to name their own price for a digital download of their latest album, sending shockwaves through the music industry.)
Currently, Premier offers its print content free online-both on its Web site and in a recently-launched digital edition. An annual subscription costs $14.95.
"What we're looking to do is create exposure for a relatively new magazine," says Peter Sprague, president of Premier parent Gearhead Communications. Concurrently, Sprague hopes to increase paid subscriptions and build its combined and print and Web audience.
The magazine, which launched in 1995 as Midwest Musicians Hotline, changed its name to Premier in January. At the time, Sprague said the company expected to invest "well over $1 million in the Premier franchise" in 2007. Earlier this year, Premier unveiled an extensive social network for guitarists, including a gear search component. It's Web site boasts 450,000 visitors a month.
Meanwhile, it appears that Paste has extended its name-your-own-price initiative beyond its original 10-day window. Late Monday, visitors to pastemagazine.com were greeted with a pop-up link to the Radiohead offer.
Sprague adds that Premier had the idea to follow Radiohead before Paste's announcement. "I'm interested to see how it does for them."