Guideposts.com Named Fastest-Growing Publisher Web Site

The Mequoda Group names 2009 'Rocket' award winners.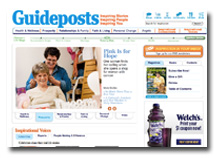 CAMBRIDGE, MASSACHUSETTS—Roughly 60 people turned out here yesterday for the first day of the Mequoda Summit Boston, an event focused on best practices and tips for generating "Web 2.0" revenue sponsored by Bristol, Rhode Island-based publishing research and training firm the Mequoda Group. For the first time in the summit's six-year history, the group handed out the "Rocket" awards, which recognize the fastest-growing online publisher communities over the last 12 months.
Taking top honors was Guideposts.com. Mequoda said the magazine's user-generated content-based site grew more than 850 percent from July 2008 to July 2009 (20,040 unique visitors to 193,473 unique visitors).
"We consider ourselves to be the first medium to use user-generated content 50 years ago in magazine form," Guideposts.com vice president of digital media Philip Charles-Pierre said during the ceremony. While this may be the case, the transition to digital was not easy. "We still struggle internally to define what audience and niche we serve," he added.
Ragan.com came in second with a 299 percent increase and RealSimple.com placed third place with a 178 percent year-over-year increase.
To be considered, Mequoda said publishers' Web sites had to be content-driven (three or more stories posted weekly), Google-friendly, subscriber-centric (e-mail), multi-platform, have more than 10,000 unique visitors per month, and must have grown at least 20 percent since last year.
 
"We looked at the big guys, but mostly the up-and-comers," said Mequoda Group senior partner Kim Mateus. Mequoda first came up with a list of 250 influential sites that fit the criteria based on Google searches, word of mouth and overall online clout (FOLIOmag.com was among that initial group). Using Compete.com, Mequoda whittled down the list to the 10 that showed the largest growth.
Rounding out the top 10 winners were: JohnsHopkinsHealthAlerts.com (168.36 percent increase), CeramicArtsDaily.com (142.3 percent), HuffingtonPost.com (133.47), HRHero.com (131.25), ReptileChannel.com (129.53), blog.HubSpot.com (126.67) and VanityFair.com (102.7).
Others making the list included AdAge.com (ranked #12), DiscoverMagazine.com (#13) and RunnersWorld.com (#14).

Meet the Author
---