Guggenheim Partners Announces Restructuring at Prometheus

Two new operating groups headed by Janice Min, John Amato and Jeff Wilbur.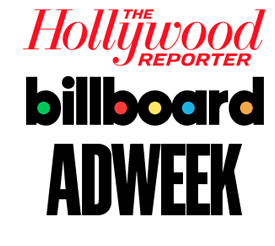 Guggenheim Partners announced some major changes to its publishing holdings under Prometheus Global Media. The group will be split into two operating units—The Entertainment Group, containing The Hollywood Reporter and Billboard, and another group that combines Adweek, the CLIO Awards and the Film Expo Group.
Along with the re-org, the company named Janice Min and John Amato as co-presidents of the Entertainment group and Jeff Wilbur as president of the Adweek/CLIO/Film Expo group.
Min, whose title will also be chief creative officer, most recently headed up The Hollywood Reporter. Now, she'll oversee all editorial operations for THR and Billboard.
Amato will be in charge of the group's business side. He was previously CEO of Backstage. And Wilbur was most recently CFO of Prometheus.
"We believe that this new structure will not only foster growth, but allow enhanced opportunities for advertisers, readers, viewers and/or audiences and, of course, our employees," says Todd Boehly, president of Guggenheim Partners and chairman of Guggenheim Media, in a statement.
All three executives will report directly to Boehly, effective immediately.
Meet the Author
---