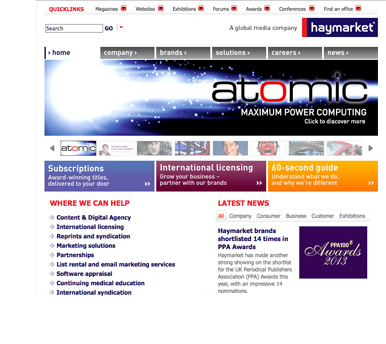 There may be a media brand tailored for just about every consumer and b-to-b nook and cranny, but there are only so many customers that exist in those niche markets. Haymarket Media, for one, has turned to deeper data analysis on the customers it already has to build more nuanced paid content packages that drive more revenue and longer-term customer retention.
An early discovery was high unique visitor and pageview counts do not directly relate to paid users. Haymarket, an international media company targeting a variety of verticals, initially focused on customer data associated with its PRWeek US and Compliance Week brands, which both have online paywalls and multiplatform subscription bundles.
 "There was a disconnect between the level of use and engagement and what we were able to sell," says John Crewe, vice president of audience development. "One of the solutions we looked at early on was one that tried to identify anonymous usage on the site—giving us clues about the types of companies coming in so we could develop a sales plan. But we fell short because we're in a very niche market. There was probably more usage within our customer base than we were even aware of."
That last hunch led Haymarket to partner with Scout Analytics, a customer usage data analytics service, to more closely study existing paying customers to see if there were opportunities to drive more revenue. In other words, rather than solely focusing on chasing after new customers in an effort to grow audience numbers, Haymarket devoted more effort to getting more spend out of its existing customers.
Using Scout Analytics, Crewe says they were able to determine behavior differences across markets. In one, for example, subscription abuse—the sharing of a single-seat account—wasn't a problem, but for another market it was a big issue.
In addition to that, however, Crewe notes that engagement and behavior metrics led to a better understanding of long-term use of accounts. "Perhaps there was a change in staffing and we see the usage drop, that's an indication we should be proactive and work with them to make sure they know how to access what they need," he says.
Without that early intervention, an account may be dropped if Crewe's team waits until renewal time to re-up the customer.
Trial offers are now easier to manage as well with the new data. "In one market we're very generous in what we offer for a trial," says Crewe. "We don't have the bandwidth to follow up with all of these individuals personally, so we're able to identify those who have been engaging significantly in the trial."
Additionally, the data has enabled Haymarket to better identify a group sale opportunity versus a single subscriber. "We have one product where we increased the number of group subscription sales by 28 percent in the first year and almost 20 percent in the second year," he says.