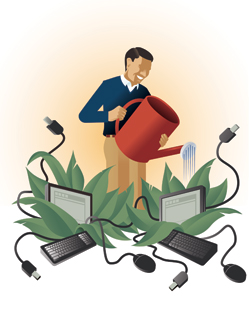 At a time when most publishers are working with slim budgets—even preaching social media and digital editions to be industry saviors—launches have still remained a constant. Somewhere between 191 and 634 print launches occurred in 2008 (depending on who you ask), with an unprecedented number of online, event and social networking projects being created.
Major players like Meredith, Glam Media, Organic Beauty and Vibe have launched portals, online events, video services and social networking sites. But can smaller, 360-degree companies lift themselves up by the bootstraps and grow their market share in the current climate? Both Wend and Greener World Media have managed to get funding and build their companies through spin-off events, social networking and user-generated reviews, and especially, partnerships.
Acquiring Funding
"Funding is a funny game," says Stiv Wilson, editor of Wend, a Portland, Oregon-based outdoor adventure magazine. Wend originally launched in 2004 but re-launched in 2008 with existing employees taking over. "During our reconfiguration, we reached out to friends and family first, with good response," he adds. "Then we looked at who funds what in Portland, and strategically went after people who would identify with our product."
Wilson compares funding to networking, saying that: "Not everyone you meet can help you directly, but they may introduce you to people who can. If the product is good, it will get funded."
Wend spoke with over one hundred potential investors. "Not all of them said yes, of course, and several said they were interested but aren't able to move at this time due to liquidity," says Wilson. "Look for people who are in transition from one project to another, that's where the investment capital is."
When Pete May, president and publisher of online publisher Greener World Media, relaunched the company in 2007 as a for-profit, it had existing assets, including Web traffic and brand recognition, based on its following as a former non-profit. "We benefitted from a hot ad market for those properties, which hadn't been tapped up until the point we went for-profit," he says.
With its greenbiz.com brand, Greener World was able to get cash rolling in from sponsors. When the publisher closed funding in June 2008 after starting less than a year earlier, it had "a good investor that told us early on that he invests, he doesn't manage," says May. "This way, we had enough money to keep strong control."
May adds that if the company hadn't had pre-existing properties and technology in place, that would have been the company's first investment, "anywhere from $500,000 to $1 million." "When we overhauled our CMS, the recommendations were all over the map. [The investment] ended up being less than six figures using open source tools such as Drupal's content management system."
To get its online presence up and running, Wend elaborated on WordPress' platform and static page, launching the site in the $20,000-range, which includes any and all equity traded with designers and others.
Planning the Mix
When it comes to launching e-media initiatives, both Wend and Greener World Media opted to go slim on staffing. Wend has five full time employees and three to four contractors, while Greener World has 12 staffers. "We were able to build the model with half of the staff," says Wilson. "We figured out our needs and the cheapest way to address them. And you need someone younger than 26 to be your social networking ninja—if you don't have one, get one," he adds, stressing the importance of hiring people savvy in e-media.
Greener World also focused on developing a social media strategy to boost the brand. "We created a LinkedIn group that has developed a following, most of which we have nothing to do with, in the sense that there are now many organic discussions among various members of the group," May says. Greener World has two staffers who spend a majority of their time devoted to Twitter and other media to increase traffic and distribute content, which is more cost effective than spending money on other forms of audience development like SEM, May adds.
In order to keep the print and Web balance alive, Wilson says that Wend references the online site in the print book constantly, helping both print and the e-zine drive readers to each other.
Staggered Event Pricing
With the emergence of virtual events—and many publishers hoping events' supplemental revenue can make up for falling advertising sales—"events need to be unique and compelling," says May. "Nobody is traveling, so events need to overcome this." His advice: develop distinct price points to satisfy different parts of the market. GWM has priced its GreenBiz Executive Network, a peer-to-peer member-based Forum, at $9,900 annually; a February 2009 event, The State of Green Business Forum, which sold out at a price point of $149; and a two-day Greener By Design conference at $1,999.
Getting Advertisers On Board
As an editor, Wilson says that he "hated the model of trusting reviews of products; they always end up as an advertorial feature." As a solution, Wend appoints "ambassadors" who often use and report on gear in their travels. "The fact is that our athletes choose from the gear we have, find stuff they personally like, and then it shows up in the media they produce simply because they're wearing it," he adds. "This way, we're the most authentic and trustworthy voice in the outdoor market, because if you see gear on our athletes, it's because they loves it, not because we forced them to wear it."
While this may seem like an advertiser's dream, it all happens organically. "Wend has strict separation of church and state," says Wilson, with no advertorial and no promises to "pimp" its clients' gear. For Wend, it's more about creating content that both the publisher and the advertiser can use—added value for advertisers, helping secure both funding and advertising contracts, says Wilson.
Before launching The State of Green Business Forum, May estimated that Greener World did about one hundred interviews with executives to gauge partnership interest. "We spent a lot of time reselling," he says. His advice: "Partner selectively so you don't waste time on those that don't pan out." When Greener World Media posted IBM's white paper on its water initiative, it generated interest from other Fortune 1000 companies and major NGOs only a week later.
Through partnerships and cross-promotion, Wend's editorial department, Platform, gives a voice to activist organizations. Partnering with these non-profits gives Wend access to their core demographic. After an activist is featured in the magazine, Wend sends a digital edition to everyone within the activist's non-profit organization, offering advertisers an almost-certain guarantee that anywhere from 20,000 to 100,000 employees will receive a digital edition, depending on database size.
Secure Positioning
Wend is currently valued at $1 million, which the company expects "to increase significantly over 2009, perhaps even double," Wilson says.
Greener World Media hopes to execute more research and events in 2009, as well as scale traffic to advertiser demands. The company was under $2 million in revenue for 2008, but hopes to be above that this year. May's final word to launching today? "Get a good virtual team." With the constant tensions between expanding business initiatives and watching (and cutting) costs, May's organization relies on a plethora of "new lead generation tools" including Webinars and directories. Lastly, to get partners on board, May says: "Tapping into non-advertising budgets in research and peer-to-peer advice is definitely coveted by partner companies—even though it may be old news to the public."