Groups: No USPS Hike Means $150 Million in Savings for Publisher Members

MPA, ABM estimate postal service developments will save publishers, big time.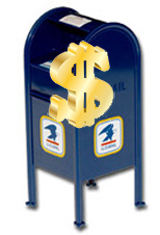 Earlier this month, the USPS said it would not increase prices for "market dominant" products next year, including First Class, Standard Mail, periodicals and single-piece Parcel Post.
Now, magazine associations including the Magazine Publishers of America and American Business Media are estimating that their member publishers will collectively save $150 million.
"Assuming that the recent relief avoided an increase of 7.5 percent across the board, the relief saved MPA members about $125 million on an annual basis," an MPA spokesperson wrote in an e-mail to FOLIO:.
In its most recent e-newsletter, ABM said the lack of a postal rate increase next year, combined with Congress' decision to absolve the USPS from a $5.4 billion payment to the retiree healthcare fund it received this fall, has contributed to a savings of roughly $25 million for its members. "If that relief had not been obtained, it is uncertain exactly what the Postal Service would have done; however, an exigent rate increase of about 7 to 9 percent would have likely been imminent," ABM said.
The USPS said in its announcement that while increasing prices might have generated revenue in the short term, the long term effect "could drive additional mail out of the system."
In August, the USPS reported a $2.4 billion loss for the third quarter and a $4.7 billion loss year-to-date. It projected a net loss of more than $7 billion through the end of the fiscal year 2009.  
Meet the Author
---