---
Group Nine Media — and other digital-only publishers like it — have become the ire of many major legacy publishers. They swallow up massive amounts of video views and shares on social media, but still struggle with branding and maintaining a loyal audience. Group Nine is taking a page out of magazine media's engagement playbook by exploring events and launching its own a creative agency. But magazine media should consider taking a page out of Group Nine's for its ability to distribute shareable media at scale.
Group Nine has a portfolio of four brands: NowThis (news), Thrillist (food, drink and travel), The Dodo (animal lovers) and Seeker (science and tech), thus giving it a nice buffet of audiences for advertisers. And its full-service internal creative agency — Alchemy — is responsible for creating custom content for each of these properties.
"We're advertiser-supported and our basic business model is about telling stories for brands," Group Nine President Eric Ashman, tells min. "We created Alchemy so we could make branded video, big experiential offline events and, we don't do this as much, but we can even create custom products for sale." Still, this is a digital-only company, so exactly how successful this endeavor is remains in question. Ashman declined to comment whether the company is profitable. "We're in growth mode right now," he says. The company formed last December following a $100 million investment from Discovery. "We don't talk about profitability at this point."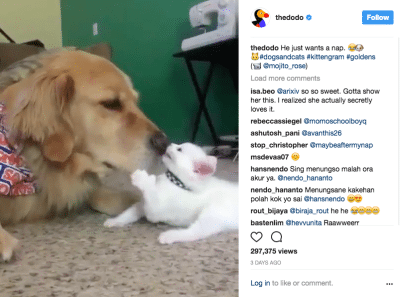 In nine months, Group Nine has become a top 10 Tubular publisher, delivering nearly five billion videos views every month. And the company is seeing over 115 million social engagements every month (up from 70 million in January).
Ashman, who was president of Thrillist prior to the brand's acquisition by Group Nine, says, "what I'm focused on right now is building bigger and bigger engaged audiences and creating more extensions within those brands."
At this point, very little of Group Nine's content is syndicated. Ashman says that his brands have mastered the ability to find audiences across the platforms, leveraging the social "pipes" (Facebook, Snapchat, YouTube, etc.) to achieve massive reach and engagement.
"For us, most important is creating great content, building brands that matter and then doing it at scale," Ashman stumps. "Then, what Alchemy can do is meet with advertisers, learn their goals and then help them tell stories that'll achieve their messaging goals."
And although many digital-only brands are still on their way to profitability, they're already taking a massive bite out of the attention economy. Legacy publishers should rightfully be aware of the engagement numbers brands like The Dodo and NowThis rack up.
Where companies like Group Nine thrive is in the attention they pay to their audiences. "Last month, for example, we launched "NowThis Money" in response to a need we observed from our audience for informative content specifically targeted towards young people and their finances," Ashman says.
Soon, The Dodo will also be launching a sub-brand for kids called Little Dodo. In addition to new content categories, Group Nine is also delving into new formats. For example, Thrillist just launched its first longer-form YouTube series, "Food/Groups" and Seeker will soon be partnering with Everest VR to launch "Seeker Mode" within the experience.
---
This story originally appeared on Folio:'s sister site, min.