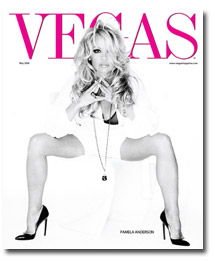 EXCLUSIVE 
Greenspun Media, publisher of Las Vegas Life, Vegas magazine and 15 other Vegas-related publications, is planning to launch a "category crushing" Web site on Memorial Day weekend.
According to Greenspun president Michael Carr, the site, part of which is already active through Greenpun's Las Vegas Sun newspaper, will be an interactive portal of information on Vegas restaurants, sporting events, schools and "everything hyperlocal."
"We will take the entire playpen in which we have to play with our 17 local publications and converge the information to create a portal of everything related to the city," Carr says. Each publication's Web site, according to him, will have a "front door" to the interconnective site.
Carr says a user will be able to search for a local music event and hear a soundbite of the performer; set up a text, phone or email reminder; get a 360-degree view of the venue; make a reservation and even text members of the portal's Facebook application about how long the line is or with photos from event.
"Nobody's doing that. Nobody," says Carr. "Yahoo, New York magazine may be doing a piece of it, but we're doing the whole thing. We'll invest in the infrastructure. That's why it's going to be a category crusher."
Carr says the initiative will create joint sales opportunities for his company, as well widen the pool of current and potential advertisers. One way, Carr says, is to up-sell a restaurant by offering to include its menus, a video of the venue and a link to the restaurant's Web site within the portal.
Greenspun is developing a scalable infrastructure and plans to roll out similar portals in its 15 other markets through this year and next, starting in New York with its Niche Media titles Gotham and The Hamptons. "It's a process, not an event," says Carr.