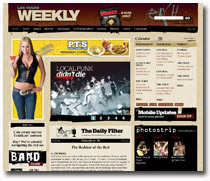 Nearly six months ago, Greenspun Media CEO Michael Carr said in an interview with FOLIO: that the Las Vegas-based magazine and newspaper publisher was planning to hire 30 to 50 online staffers to produce what he called a "category crushing" Web portal for its family of publication-related sites.
So far, it appears Greenspun has begun delivering on those ambitious claims. One move came when the publisher hired former Washington Post/Newsweek Interactive product development vice president Rob Curley to serve as interactive division president and executive editor.
Since January, the publishing company has grown its online operation from five to 40 editorial- and operations-based staffers. "Greenspun's interactive media group is making a major commitment to building a successful local online business," says recently-named interactive division senior vice president and publisher Chris Jennewein. He declined to say exactly how much Greenspun has invested in this initiative so far.
Greenspun relaunched its Las Vegas Sun newspaper site in January and the Las Vegas Weekly magazine site in June. The sites, already, are seeing dramatic traffic growth Jennewein says. Before June, the Las Vegas Weekly site had been running at 155,000 page views per month. By the end of August, it was expected to hit a million page views. The Las Vegas Sun site was close to two million page views per month pre-relaunch and was expected to be close to four million by the end of August.
According to Jennewein, Greenspun's biggest local competition online comes from local television stations and the Review-Journal newspaper site. The Review-Journal did not return a FOLIO: request for the site's average monthly traffic figures.
"Instead of focusing on a portal, we say we're creating a series of closely-connected category-crushing Web sites," Jennewein says. "From business, community news, traditional newspaper news to entertainment, we want our sites to dominate the local market here."
Web Sites or Databases?
As with LasVegasSun.com, the redesign of LasVegasWeekly.com was extensive. In addition to original reporting, video content and posting stories from the print edition, the site features entertainment info-shows, artists, parties, venues, restaurants and more-interconnected through a central database, providing visitors with "comprehensive and up-to-date information on all things Las Vegas entertainment," according to Jennewein.
"They look like Web sites but what's powering them is this immensely complicated relational database," Curley says, indicating that he and his team has spent more than eight months developing it.
"Our strategy was to gravitate to the sites for our big-traffic brands," Curley says. "When it comes to Web sites, I'd rather be McDonald's than a fancy steakhouse. I don't want to serve 200 a night. I want to serve two million a month."
What's Next?
While Greenspun Interactive continues to build-out the Las Vegas Sun and Las Vegas Weekly sites in preparation for an official relaunch this fall, the team is still determining which of the company's sites are next in line for redevelopment.
In the meantime, the publisher is looking to hire about 20 additional online staffers-growing Greenspun's overall online personnel to about 60.