GreenSource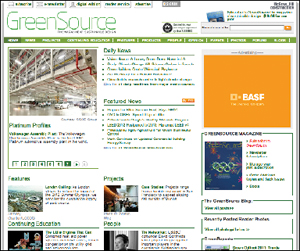 Eddie Winner: Best Website, B-to-B
Designing a website for designers isn't easy.
Focused on the professional market of sustainable designers, architects and builders, GreenSource attracts over 350,000 readers a year, each with a keen eye for form. That demand for style and efficiency puts a lot of pressure on associate editor and website coordinator Alanna Malone.
"The layout is very user-friendly," she says. "For our magazine, a design magazine, it's important that the website looks nice and that we present our information in an appealing and accessible way. Sizing issues, color and images are so important. We're showing buildings, so we want to make sure they're represented as accurately as possible."
Beyond the challenges of dealing with such a perceptive audience, Malone and her group face the same difficulties any websites do: bringing people to the site and keeping them there.
As a bimonthly magazine, GreenSource doesn't generate a high level of daily interaction through print, so it falls to Malone to maintain those relationships online. Social media and video efforts have been key, she says, but an annual Greenbuild International Conference and Expo guide is their biggest draw.
The Greenbuild guide, this year focused on host city San Francisco, features interviews with big-name designers in the region to come up with a comprehensive list of places to visit, eat and study. While the host city does have a presence in print, the guide only lives online.
"It's a whole package," Malone says. "It's the biggest thing we do all year."
Meet the Author
---