Green at Retail: Magazines Can Increase Environmental Stewardship

Tips for improving newsstand marketing and distribution.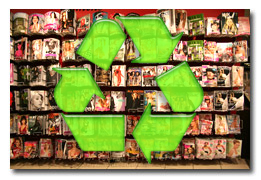 The present economic environment, combined with the growing green movement, can act as a trigger to encourage stakeholders in the newsstand channel to explore how to take more responsibility to reduce the channel's environment impact, at the same time improving newsstand marketing and distribution.
Green at Retail: Newsstand Marketing and Distribution, a new "green paper" written by the audience marketing company, Next Steps Marketing and Green America Better Paper Project—a nonprofit that grows the green economy and supports environmentally responsible magazines—outlines ways that publishers can achieve higher efficiencies, increased sales, and build better brand awareness with the greatest impact and lowest environmental and economic costs. Here's a quick look:
Efficiency Tips
•  Order regulation. Work with your account executive to review line by line distribution and request changes where the sale is too high or low.
•  Remove zero copy sales. A report is available from your national distributor that highlights retailers that don't sell any copies. Remove these retailers from your distribution.
•  Move to non-returnable distribution. You are paid on your entire draw at a greater discount. This reduces waste, shipping and printing costs.
Marketing & Distribution Tips
•  Test new markets. Target markets by demographics, psychographics, or similar titles performance.
•  Limit risk. Partner with retailers to get the right product to the right place at the right time in the right quantity.
•  Analyze cover price. Assess the benefits on sales from a lower cover price, or improved sales with a higher price and a "printed on recycled paper" logo.
•  Examine paper options. Investigate production changes that can save paper expenses and improve the environmental marketing of the publication.
•  Explore environmental promotions. Demonstrating environmental leadership can get magazines highly visible placement on promotional racks in retail stores like Barnes and Noble, Hastings Entertainment, and Universal News and also within a special menu option on Amazon.com under "Recycled Paper Magazines."
Everyone knows it's an extremely challenging time for the magazine industry and cost savings and marketing practices identified in paper can be the factor for survival. The environmental climate right now is similarly harsh as the public and governments look to be more energy and resource efficient in order to prevent disastrous climate change impacts.
The good news is that while the solutions may require some thinking and a new approach, they do, in fact, exist. Creative marketing and efficiency on the newsstand are helpful for the financial and environmental bottom-lines. The key question is will enough magazines begin exploring these opportunities and implementing solutions in time.
Meet the Author
---