Green Issue Overload: Lay Off Condé Nast

No recycled paper? Who cares? Certainly not advertisers.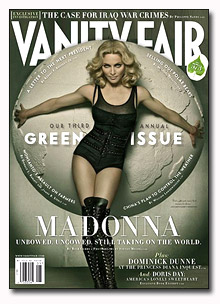 I rarely rise in defense of Condé Nast. Wired is an especially nasty competitor of Discover, even though their science
coverage is a small part of their tech culture package. The New
Yorker also competes with us for ad pages.
You have to give them their due, though. From my perspective, they are by far the most
effective spokespeople in the world for the power of magazines. Their editors are industry giants who
straddle the worlds of media, fashion and entertainment. Do you ever hear Anna Wintour or Graydon
Carter whining to the trades about the growing influence of blogs or some other
piece of Internet hype? I don't think
so. I would be surprised if there were many tables set aside for bloggers at
the Waverly Inn.
More importantly, every bit of Condé Nast's DNA is attuned
to extracting maximum dollars from advertisers.
As I pointed out in a blog
post a couple of months ago, along with your 12x schedule, Condé can
deliver an integrated program featuring Beyonce
caressing your product online, polybagged and on national TV.
This is why the drumbeat on FOLIOmag.com about Vanity
Fair's and the New York Times's green issues and recycled paper (or
the lack thereof) is so off the mark.
For better or worse, green issues aren't about public advocacy. Seriously, how can Madonna, who has a private
jet and at least five enormous homes, be the cover girl for conservation?
The big publishers' green issues are about selling pages to
advertisers who want to be associated with green content. And until those
advertisers demand that their ads be printed on recycled paper (and provide the
revenue that offsets the increased cost), the green issues will keep coming out
on the same paper stock as every other issue.
In the meantime, please pick up the "Better Planet" issue of
Discover on newsstands now. We are
printed on FSC-certified paper and, after an extensive survey of our greenhouse
gas emissions, purchased a carbon offset from carbonfund.org. You can also click over to our Better Planet blog or
enter our Green
Science Fair.
Happy Earth Day.
Meet the Author
---