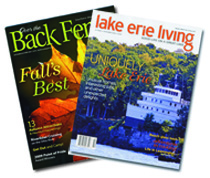 Cleveland, Ohio-based Great Lakes Publishing recently added to its portfolio of regional magazines by acquiring Lake Erie Living and Over the Back Fence from LongPoint Media. Terms of the deal were not disclosed.
Great Lakes—publisher of Cleveland magazine, Ohio magazine, Inside Business magazine as well as several special interest and custom publications—plans to keep the circulations of three-year-old Lake Erie Living (25,000) and Over the Back Fence (14,000), according to president Lute Harmon Jr. Lake Erie Living will publish in March, May, July and September to "coincide with the seasons," he said. Moving forward, Over the Back Fence will be shipped as "a complement" to Great Lakes' Ohio magazine.
Great Lakes Publishing was advised by Regional Media Advisors in the deal.
Part of the reason for acquiring the LongPoint Media titles, Harmon told FOLIO:, "is because we admired them."
"Lake Erie Living has enormous potential," said Harmon. "If you have a home or cottage on the lake, it's a part of your life, and we see that it is something you're passionate about and having enormous potential for publications. We feel the same way about Over the Back Fence."
Great Lakes Publishing plans to retain half of its five full time staffers, Harmon said. The others will stay on in a freelance capacity.