How do you feel about advertising on your cover?
According to a poll that ran on FOLIOmag.com from May 15 to May 20, 51 percent of respondents believe any form of cover advertisement is a violation of editorial ethics. However, 46 percent think cover ads are a legitimate business opportunity, while 3 percent aren't sure.
Those are surprisingly close numbers and an indication that the overall industry position on cover ads is softening. While individual members at ASBPE (American Society of Business Publication Editors) are vehement in their opposition, the organization's official policy is that it doesn't oppose cover advertising as long as there is clear separation of the advertising message from the editorial message. On the consumer side, ASME (American Society of Magazine Editors) is also against cover ads, but some of that opposition is being qualified.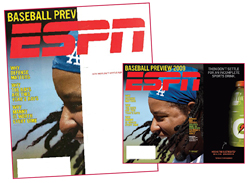 A flurry of highly public cover ads burst on the scene in recent months, including ESPN the Magazine, which featured a Gatorade ad flap that partly obscured the cover of its April 6 baseball preview issue; Scholastic Parent & Child, which featured a cover ad for a company called Smilebox that appeared in the lower right corner with the label "advertisement" in small type; Us Weekly, which ran a mock cover on its April 20 issue as part of a five-page ad for HBO's Grey Gardens; Entertainment Weekly, which ASME cited for a cover notch promoting an ABC television program on its April 3 issue; and Esquire, which featured a cover "window" that opens to an ad.
Some of those publishers said they may have gone too far. Others are unapologetic and say they'll do more. While even the most adventurous publisher would probably still agree that the 2007 case of XXL editor-in-chief Elliott Wilson appearing in a back cover ad in his own magazine for a clothing brand crosses the line, cover ads are gaining favor as publishers struggle for print dollars and many chafe against what they see as excessive restriction compared to other media.
At the DeSilva + Phillips 2009 Dealmakers Summit in February, TV Guide president and CEO Scott Crystal blasted the magazine industry for lagging behind other media when it comes to creative branding opportunities—including ads on the cover of magazines.
"The ASME guidelines need to be blown up," Crystal said. "I have no problem with ads on the cover of a magazine. I'm not advocating someone else put an ad on their cover but if I want to do it, it should be up to me, my editors and the research we've done on our readers, not some panel."
Crystal said the Esquire issue featuring an ad behind a peel-back flap on its cover didn't go far enough. "Ads on the flap is a cop-out," he said. "What signal would an ad on the cover send to a consumer that's so egregious? I can understand why editors aren't jumping up and down about it but if I can monetize this and invest it back into the product, what's the problem?"
Clinging to church-state rules is holding back the industry, according to Crystal. "I don't take this lightly and I don't mean be arrogant about it. But we're the only medium not bucking the conventional wisdom."
Sid Holt, chief executive of the American Society of Magazine Editors, responded to Crystal's comments on a FOLIO: blog by saying, "Oh, criminy—this is what I get for dragging Scott off a golf course in a driving rainstorm. Look, ASME's not telling anybody how to run his or her business. If Scott wants to put an ad on the cover of TV Guide, that's his decision. This isn't about ASME; this is about readers and advertisers. In the case of ads on covers, the ASME guidelines only reflect long-standing industry practices.
I've run magazines on the trade side that put ads on their covers, so I know what some of the issues are. Consumer magazines don't run ads on their covers because ASME tells them not to. They don't do it because they're afraid it'll cheapen the brand in the eyes of consumers and marketers. They don't do it because they don't want readers and advertisers wondering if editorial coverage is for sale. They don't do it because they don't want clients wondering what deals their competitors are getting—the ASME guidelines protect publishers too, you know."
Scholastic Parent & Child: No Apologies
Of all the recent consumer cover ads, Scholastic Parent & Child is the only one that really buzzed ASME. "That's the only 'Full Monty' execution we've seen that just went ahead and put an ad—two, actually—right on the cover," ASME president and Runner's World editor David Willey tells FOLIO:. "There was no attempt to make the ads feel like they were part of an editorial execution or idea at all. The other magazines that have tried new things have all taken different approaches, but none of them were that blatant."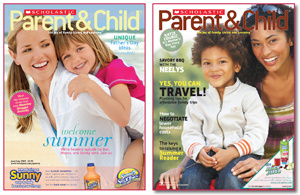 Before committing to the ads, Scholastic Parent & Child polled 2,500 readers about ads and ad units that might appear on the cover, according to Scholastic Parents Media vice president Risa Crandall.
"This was an important step to take," she says. "The reception was positive since these cover ads were done tactfully with lots of integrity. We had some readers say that the cover of a magazine is now like the equivalent of a magazine's 'homepage.' Since our audience is used to seeing ads on Web homepages constantly, they didn't seem to think this was a stretch. Sometimes I've found that the magazine industry assumes that readers will feel a certain way, and they don't."
Scholastic Parent & Child has used both corner ads and bottom cover ad strips, and will debut corner cover peel offs in October. Crandall anticipates the peel offs to be most popular due to the ROI component (offering readers a coupon, barcode, or Web address). "Clients will pay for something with an ROI component;  people are still willing to pay for creativity," she adds.
Scholastic requires advertisers interested in a cover ad to also commit to a page inside the book, with the price of a cover ad a "significant percentage over a page ad," says Crandall. While she wouldn't offer specifics, a New York Times article said the combined cover ad / inside ad costs $80,000 to $85,000.
Crandall says she's sold out cover ads for the rest of 2009, and that this will result in 10 percent incremental ad revenue (the magazine publishes eight issues per year). "In June, we actually had three advertisers compete for the ad space," she adds. "In print, you don't tend to sell out, so we have found that this kind of advertising is getting clients to act more quickly. Last year we finished up 28 percent in ad pages; right now, we are tracking 14 percent ahead of that. We decided to go the route of cover ads based on innovation and creativity—not as a response to the economy. This really puts print in the forefront."
When Is It A Violation?
The February cover of Esquire caused a bit of a stir  over a cover "window" that opens up to an ad for the Discovery Channel, as well as a mini-TOC.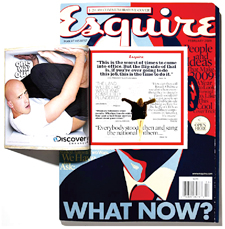 Editor David Granger, who's become something of a serial envelope pusher (see: Esquire's e-ink cover, margin novella, etc.), claims it wasn't a gimmick cooked up by some rogue, outside-the-box sales executive at Hearst, but a pure editorial play. 
"This was an editorial idea," he wrote in a post on ASME's blog. "It's one of the several manufacturing gimmicks I presented to my publisher about a year and a half ago as things I would love to do if we could find a way to pay for them. I got sick of reading about the demise of print, which is the best, most rewarding medium ever, and I got sick of all forms of print being labeled 'old media."
For its part, ASME said Esquire did not violate any guidelines: "A clever and audacious use of print, yes; an attempt to disguise advertising as editorial or compromise editorial independence, no."
"In terms of church and state, you have to be very clear," adds Holt. "When you are talking about collaboration between editors and publishers, and then publishers and advertisers, that's what magazines do. And should do. If you look at Esquire, it's clear that David Granger is working collaboratively with [publisher] Kevin O'Malley. It's clear they're speaking the same language. So blurring of the ad-edit line, in the sense that it confuses readers, I'm opposed to that, vigorously."
Ad positioning is a factor as well. "We felt the Esquire cover—while controversial—retained editorial independence because the ad was underneath the flap and there wasn't any ad copy on the cover itself," says Willey.
Scholastic Parent & Child is a different issue, according to Holt, who says ASME went back through the magazine's covers from past years. "We determined this is a space (the cover) where the editor spoke directly to the reader. We determined it was not an editorial mistake, but a business mistake."
No 'Lesser Form of Reader'
Holt says the comparison to television is false. "Magazines have a different mission than television, which is journalism," he adds. "If we're talking about the nightly news, or political and social shows, if you're ready to show me product placement in those programs, I haven't seen it yet. The readers of celebrity magazines are just as entitled to trustworthy information as newsmagazines. We make no distinction. People who do are saying there is a lesser form of magazine reader. We don't."
Holt says he understands the financial pressure magazines are under but the industry can't go too far. "Listen, I'm an editor. I love pushing the envelope. But sometimes, the envelope explodes."
B-to-B Gets Into the Act Too
Cover ads aren't just a phenomenon among the large consumer magazines. Business-to-business magazines are feeling the pinch too and are quietly opening up their covers to advertisers—often without attracting the same level of scrutiny.
Macfadden Communications' Pet Business, which targets pet retailers, has offered false covers that look like bellybands for three years. "In tough economic times, [cover advertising] is something we must do," says vice president and publisher Craig Rexford. "Since we are a b-to-b, we have different concerns than a consumer title—like making sure everything is within postal regulations."
Rexford says the reaction within Macfadden itself is mixed, although the audience doesn't seem bothered. "Within our corporation, some like these cover ads and some do not—probably about three-quarters are fine with it," he adds. "With reader response, we've received a neutral reaction. We get a lot of feedback on our magazines but we have never received a comment positively or negatively regarding the cover ads. I think most people don't care."
Rexford says there are environmental and financial considerations beyond what the magazine pockets. "Most of what we are doing now is bellybands / false covers because it is less out of pocket for the advertiser," he says. "This false cover has a third of a page bellyband. This way the rest of the cover still fits. Also, this method is good because we can avoid polybagging, which is better for the environment."
While he won't give specifics, Rexford says Pet Business charges a premium for cover space. "Depending on the client, we work out deals and combos," he adds. "A cover ad is probably about two to three times the open rate of a one-page ad."
Last year, ASBPE set up a regimen for members to approach its Ethics Advisory Committee with questions about possible violations. Former ASBPE president Roy Harris says, "We haven't had any specific  requests about deceptive ads or the like. The examples I've  seen have been at publications like ESPN, so I'm not aware of b-to-b publication abuses myself. But our members do see pressure increasing among advertisers who want more visibility for their message."
ASBPE doesn't oppose cover advertising per se, as long as there is clear separation of the  advertising message from the editorial message. Guidelines in the ASBPE Code say there should be "clear separation of news from analysis, news and analysis  from opinion, and of editorial from advertising content." That includes fake covers that make it look like a publication is supporting an advertiser or using a magazine's  logo for ad material.
Over the Line?
FOLIO: sent several recent covers to representatives of the ASBPE Ethics Committee, who reviewed them in an unofficial capacity. Almost across the board they said they had no problem with the covers sent.
However, the May cover for the digital edition of Aircraft Maintenance Technology, a magazine published by Cygnus Business Media for the AMT Society, raised some eyebrows (a picture of the cover and the opening spread is on page 34). The cover features a mock racing pit crew with the headline "Cessna Service Center News." It looks like a neat editorial cover, with no mention of the word "advertisement." When the page is turned, the next three pages reveal an obvious ad for Cessna, with the TOC appearing to be the first dedicated edit page. AMT did not return requests for comment by deadline.
Crain: 'We've Been Doing this a Long Time With Minimal Protest'
Back in 2005, MediaPost called out Advertising Age when Crain Communications released a limited amount of copies at the Ad:tech conference touting a front page cover wrap—unbeknownst to the edit staff (Ad Age Group editor-in-chief Rance Crain made a public apology at the time).
Today AdAge occasionally runs cover ads, like its April 27 issue headline 'How Do You Grow Your Business in This Economy?" with a Univision ad.
"In my opinion, which is not necessarily shared by everyone in the company, there is nothing wrong with an ad on a cover if it is apparent that it is an ad," says Crain. "We have been doing this for a long time with minimal protest. I think that number one, readers are used to it, and number two, it's no big deal to just turn the page. Particularly because of the subject matter of our magazine, people are sort of interested in ads themselves. Most of the ads on our covers are cable ads. This material is meaningful, particularly during the TV upfront season."
Crain is also chairman of Turnstile Publishing Company, which publishes Golfweek, a title that offers cover wraps to advertisers on a limited number of trade-only circ issues (such as 19,000 out of 160,000). "I don't think it is the worst thing in the world at all," he says. "You do have to worry from the consumer standpoint. On the newsstand, a cover ad may hurt sales. But it's important to keep in mind that whenever you see anything that you are unsure of, whether it is ads or edit, then there is something wrong."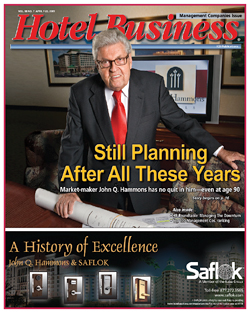 IPD Publication's Hotel Business offers strip ads in which the bottom half of its cover is an ad (and marked as such). ASBPE says the strip ads seem fine. "Strip ads on the cover are a fact of life in trade publishing today," says editor Dennis Nessler. "While it slightly limits the amount of available space we have for editorial, I recognize the business opportunity and the value of prime real estate."
Nessler says Hotel Business has two types of covers, one of which is a false cover. "These special issues have a large image or graphic and refer to a specific cover story inside," says Nessler. "Our graphic artist will work on the cover with the strip ad on the page so as to avoid any issues with colors clashing, or possibly even matching, and potentially creating confusion. In fact, in a couple of cases we have actually successfully reached out to the client and had them rework the ad to help avoid an unattractive cover."
The other type of cover is what Hotel Business calls a working cover, which has several story starts on it. "This is very easily distinguished from the ads on the bottom of the page so little has to be done in terms of additional layout work," says Nessler.
He says the readership doesn't seem concerned. "The strip ad on the cover has been hugely effective in attracting business," says Nessler. "I can count on one hand how many issues during the year don't include a strip ad. Our readership has not voiced any concerns or issues to me regarding strip ads on the cover. In fact, many, if not all, of our competitors run them as well."
However, one competitor says it won't follow suit. "Our magazines have occasionally been pressured to do things like strip ads but our editorial staff has resisted those efforts successfully," says Paul Heney, editorial director of Questex's Hotel & Motel Management, Hotel Design, Luxury Hotelier and The Hotel Times. "We do occasionally sell false covers. I'm not a fan of false covers, but I realize that it's a huge revenue stream for some magazines, and it's a fairly accepted practice in some industries. We do insist that the word 'advertisement' is clearly placed across the top; I've seen competitors hide it in the middle."
Heney says his group is coming up with ways advertisers can contribute by speaking to the audience, be it be by submitting press releases, making executives available for interviews, and commenting on articles via the feedback mechanism on the Web sites.
"These things do a lot more for our readers," he says. "It's important to remind the sales staff that ethics doesn't take a backseat during economic uncertainty or when business is difficult. You show your true ethics when they're being challenged—if you let them falter, then it shows that you didn't really subscribe to those values in the first place."