Great American Media Services Buys Two B-to-B Sports Mags

Lessiter Publications sells Coach and Athletic Director and Winning Hoops.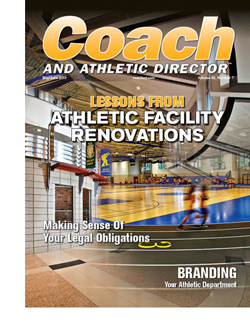 Sparta, Michigan-based Great American Media Services has purchased two b-to-b media brands from Lessiter Publications, based in Brookfield, Wisconsin. The deal includes the magazines Coach and Athletic Director and Winning Hoops, as well as associated websites and newsletters.
Kevin Hoffman, managing editor for the two titles will transition with the deal. Both publications are being moved to Great American Media Services' headquarters.
"[We] will be moving all content, sales and production operations to our Sparta, Michigan office," says GAMS publisher and CEO Matt McCallum. "All sales, digital and production duties will be handled by GAMS' existing staff."
Coach and Athletic Director is published eight times per year with a circulation of 28,000. Winning Hoops has a 6x frequency, delivered to  5,000 subscribers.
The deal, which closed June 6, marks GAMS' first foray into the high school and college sports market. The company already targets the specialty agriculture and retail markets. The deal leaves Lessiter with titles serving agriculture and equine market.
Meet the Author
---