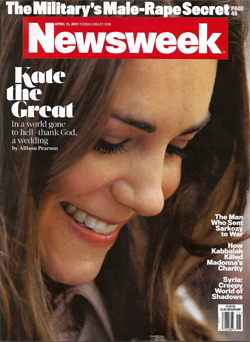 For all the fuss that Newsweek is chaperoning a new era in journalism with the print and online versions soldered together, Newsweek, in fact, is a throwback to another century.
This is because everything that appears in the magazine is dictated by one person's tastes. The big question is this: can Tina Brown's world be of constant interest to a couple of million people?
On one hand, I admire her extreme confidence; but on the other, I worry that she's sometimes off the mark.
Take this week's cover with Kate (Kate the Great) Middleton. Is there anything that Newsweek can bring to that royal party that People and US wouldn't do better?
The deck announces "In a world gone to hell-thank God, a wedding". Really? A wedding is going to bring back ten thousand tsunami victims, exile Kaddafi to Switzerland, bring back $1.20 a gallon gas and stop the ice cap from melting?
In fact, Newsweek's cover is relying on what makes The Daily Beast fun: gossip. Every cover line is either a gossip story (Kate, Madonna's African charity) or a gossipy take on an existing story (male-rape in the military, Sarkozy's supposed war advisor, Syria's evil ruling class). But is any of this indispensable?
There's good news however. Newsweek has greatly improved its design and overall packaging.
1. The cover: There is now more than a single cover line, which was the last regime's limit. There are at least five stories and, most important, cover story number two, above the flag.
The bad? There's no eye contact from Kate. Maybe it's a deliberate choice not to have eye contact this time, but eye contact has proven effective on covers because it makes them more accessible. Out of 69 covers on my local newsstand, I counted 65 with people and all of them were looking at the reader.
2. Pictures: They were considered a nuisance under the last regime but they're back. And most of them have captions.
Best new addition is NEWS GALLERY, which consists of several double page pictures from around the world with long captions, something that would have been unheard of a few weeks ago.
There are a number of mini picture essays. Most are gossip-based and superficial. Dumbest of the bunch is a group comparing Kate to Diana. Did you know that they both wore khaki sweaters? Now you do, thanks to Newsweek.
3. Navigation: It goes from a D before to an A now. The body type is easier to read, the headlines come with decks and there are pull-quotes to break-up grey pages.
4. Graphics: There's a concerted effort to bow to the state of the art with side bars, info-graphics and time-lines.
The most ominous is a two-page chart right out of the old SPY magazine called THE DESPOT INDEX which compares ten dictators around the world.
The stuff is fun; however, by no means indispensable. Did you know that Kim Joong-Il's trademark is matching pajamas? Did you know that Belarus' Alexander Lukashenko's vice is roller-skating?
Now you know, thanks to Newsweek.
5. Pet Peeves:
*Dumb section names: "The Big Fat Story" is especially irritating.
*Me-too graphics: "Conventional Wisdom" which sports arrows pointing up and down looks like it's been xeroxed out of Time.
*Gratuitous pictures: A full page portrait of a model pretending to be a repentant Marine illustrates "The Military Secret Shame". It's clearly not a news picture, but will everybody know it?