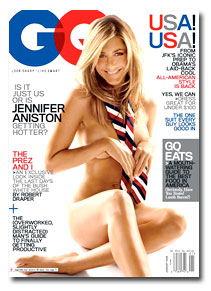 GQ's much talked-about January 2009 cover—featuring Jennifer Aniston wearing nothing more than a tie and a smile—has been covered up by Hudson News in New York's Grand Central Terminal. The popular newsstand has placed a piece of paper across the issue in its window display.
Copies inside the store, however, remain uncovered.
GQ didn't immediately respond to a request for comment.
This isn't the first time Hudson News has covered up a magazine's scantily-clad cover model. In fact, it happens fairly often, although I can't recall it happening to a general interest magazine.
In June 2006, Hudson News censored an FHM cover—the first of five consecutive issues covered up by the newsstand, including a cover featuring Brooke Hogan—Hulk Hogan's then underage daughter—which prompted liquor advertisers to pull out of the magazine.
If the retailer was hoping to draw attention away from the magazine (and putting it in the window isn't exactly a sign they want to), censoring it, as one might expect, tends to have the opposite effect. The first FHM cover covered up by Hudson News sold over 400,000 copies on newsstands, well above its 350,000 average.