Expanding the Print-to-Mobile Cache

Mobile integration service allows readers to text as well as scan promotions.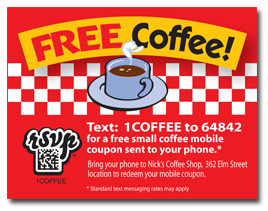 Looking to tap into publishers' growing need to expand their revenue channels, print-to-mobile solutions firm GossRSVP says its mobile phone integration service offers publishers an additional option for monetizing advertisements by allowing readers to scan as well as text message special codes for expanded content and promotional offers.
"GossRSVP was founded (in July 2008) on making print interactive and to provide tools that enhance print's value," director Roger Belanger told FOLIO:. "The two-way interaction then provides real-time metrics."
Belanger differentiates GossRSVP from the competition—including third party integration tools services like SnapTell and SnapNow, which utilize multimedia services so consumers can take a photo of a promotional code—by the virtue of its texting functionality.
"[Using SnapTell or SnapNow] is more costly to the end user since in addition to having short message service [texting], they must pay for multimedia services," Belanger said. "That is a niche market. Our aim is to make print common to all interactive services."
The GossRSVP service is compatible with all text-enables cell phone models and all U.S. mobile service providers, including Sprint, AT&T, Verizon and T-Mobile.
How It Works
GossRSVP offers publishers and advertisers the ability to create branded promotions that include a short code specific to the promotion (publishers can also sell text ads to run alongside the promotions). Readers text the code to a special number and are texted back with more information, hyperlinks, or the option to enter contests and/or sign up for texted breaking news alerts, depending on the promotion. GossRSVP can also create a scannable barcode.
 
According to Belanger, there are "at least five ways" publishers can monetize the service. "They can resell the service to their advertisers, in the sense that they can make their static print ad interactive," he said. "They can also upcharge the pay/click rate, reuse and/or sell demographic data, sell third party text ads and earn residual commissions for referral accounts brought on."
Clients include Questex Media, Study Breaks and Teen Ink. Study Breaks, a monthly college lifestyle title with a circulation of 42,500, has been using the GossRSVP service since last November.
"We needed to expand our products and services for our advertising clients," publisher Steve Viner told FOLIO:. "The college demographic is extremely savvy and we had to offer a service that kept up with the mobile student."
One of the magazine's goals through using the GossRSVP technology is to expand its customer list. "We plan to roll out a text alert program to our readers (SBVIP text alerts) and build our lists through giveaway promotions and events," said Viner. "A significant list will allow us to offer our advertising clients opportunities to send out exclusive specials, discounts and services."
Viner expects as many as 2,500 people will opt-in for the text alert program by the end of 2009. "We should be able to more than double that in 2010," he says.
GossRSVP offers three subscription packages. One covers mobile text promotions and "text-to-win" messaging. The second covers text alert opt-in/opt-out programs and the third covers interactive media links. Each individual package costs $50 per month and includes 250 free clicks, then a "low" pay-per-click rate. Accounts include 50 customers then a $50 surcharge per each additional 50 customers is added.
Meet the Author
---