Gordon Hughes to Leave ABM in July

Will step down as president to return to entertainment industry.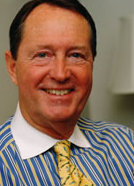 Longtime American Business Media president Gordon Hughes announced today he will be leaving the association in July to return to the entertainment industry (prior to joining the association in 1994, Hughes spent 20 years at CBS Television).
Hughes [pictured] was responsible for transforming the association from a print/publishing industry group to a global organization of information providers, changing the name from American Business Press to American Business Media.
For the fiscal year ended June 30, ABM reported $5.49 million in revenue, down about 16 percent from $6.5 million in fiscal 2008. ABM attributed the losses to a decrease in membership dues, as well as to lower event attendance and sponsorship. Membership dues, in fact, took a significant hit, down 17.3 percent to $3.42 million, compared to $4.14 million in 2008. Associate member dues revenue was $567,329, down from $651,889 last year.
Earlier this month, ABM announced several new initiatives for 2010, including a custom news site, an enhanced video network and new Webcast and networking series. 
Meet the Author
---