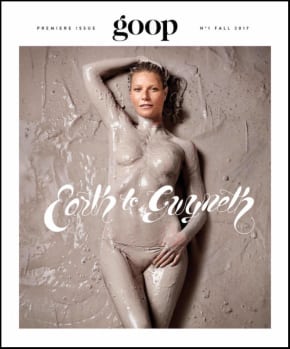 Alright, so maybe I'm not the best person to be reviewing Goop. I understand that. I don't have any healing crystals, or make use of essential oils, or do hot yoga… or any kind of yoga. However, it's a magazine, and one that's debuting with no shortage of hype, and we are a publication that chronicles the business of magazines, so here it goes.
There's little left to be said about Goop at this point, so I will spare the exhaustive details about this endeavor.  If you want to dig even deeper, check out The Atlantic's story on the impetus of the print magazine and where the product fits within the zeitgeist. But here, I'm going to review the magazine for what it is: a magazine.
The cover got plenty of buzz well before tomorrow's (September 19) release date. Not surprising, it features a topless, but covered in mud, Gwyneth Paltrow—the founder of Goop. The photograph's composition and editing is terrific. This cover might be plastered in mud but the design is as clean as they come. It's simple and elegant, and I love the restrained Goop branding atop. Even the coverline "Earth to Gwyneth" (I'll get to the irony of that in a moment) is unobtrusive but impactful. Overall, this is a great cover that does exactly what it's supposed to—it makes you look at it for more than a second.
Here's my issue with this cover: that $14.99 price. Seriously? Is that Earth to Gwyneth coverline referring to that?
Kidding aside, I suppose I get it… this is an inaugural issue, developed for a more affluent audience, with a quarterly frequency and produced by Condé Nast, which is no stranger to high-end products. However, despite all that, the publisher still needs to deliver a product worth the price tag.
The trim is only a touch larger than a standard format book. The paper stock is nice, but it's not "check out how good this magazine looks on my coffee table" nice. It's also only 96 pages, and while I love the design and will get back to that in a moment, a lot of those pages are overrun with imagery and not useable content. For me, when I picture a magazine that warrants this kind of price tag I immediately think of the now-defunct Pitchfork Review or the sporadically released and very quirky Vintage.
Anyway, I've probably spent too much time on the price tag, because at the end of the day, Goop's core readership will determine if it's truly a good value. After all, these are probably the same folks that don't blink at buying a pair of yoga pants for 100 bucks.
The inside of the book is as nicely art directed as anything I've seen in a while. It looks and feels like a magazine, but with a cool, almost avant garde vibe. Each page is brilliantly thoughtful from a design perspective and you can tell this was developed with a lot of love. So kudos to the design team. It's rich with color, creativity, imagery and truly cool typography. And I love how the team used the space available to them in a print format. This feels like anything but a templated magazine.
While I can't judge the content itself because it's so far out of my realm, what I can say is it seems on brand with what Goop is and there is a very nice mix of topics for its readership. And the story formats range from the extremely quick, to almost long form. It's a true lifestyle title in that its range of topics are so broad that it touches on the different healing powers of different rocks to fashion to the best vaporizers for catching a relaxing buzz to traveling and even parenting.
The advertising is nothing special to be honest. There's not a bunch of it, and no surprise, what is in there are luxury ads for companies that include Gucci, BMW and Neiman Marcus. I would have liked these ads to seem more endemic to the Goop brand and its content. Perhaps next time.
Overall this is an interesting magazine and I'm glad I got to spend the weekend with it (even if it's not really my thing). I think it has plenty of potential for the audience it speaks to and for a debut issue it's well done. I do wish it would provide more value to the reader for that price point, or take on more advertising to take the cost off the consumer. But that's up to Condé to decide. I will be interested to see how readers respond to the magazine and what future iterations look like.