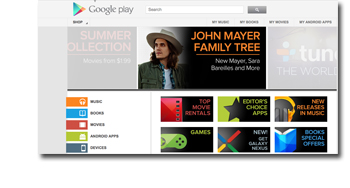 A year after Google's app store, Google Play, added in-app purchasing functionality, it announced today that developers can now add in-app subscriptions, too.
Google Play product manager Ibrahim Elbouchikhi announced the new service today in a blog post, noting that monthly and annual subscriptions are now part of the in-app billing model. "All subscriptions are auto-renewing, for every app and game and every type of subscription product," he says.
From the user perspective, Elbouchikhi says price and billing intervals are shown before the transaction, while Google Play manages the recurring billing from that point on. An email is sent to the user at the time of renewal. Users are able to view their accounts in the Play store and manage their subscriptions.
Google is also building an API that will let users carry their subscriptions beyond their Android devices and use the products on websites, for example.
The ability to make in-app purchases has become a major factor behind an app's ability to make money. In March app tracking firm Distimo noted that of the top 200 grossing apps in Apple's App Store, 74 percent of them feature in-app purchasing. Likewise, Elbouchikhi says that 23 of the 24 top-grossing apps in Google Play use in-app billing. "The total revenue generated from in-app purchases exceeds revenue from traditional app purchases," he adds.
In early May, Distimo also noted that Google Play passed the 500,000 app mark in the store. However, the firm says only 28 percent of the apps are paid apps.