Google Play Newsstand for Android, an Antidote to Flipboard?

The latest app iteration features nearly 2,000 free and paid publications.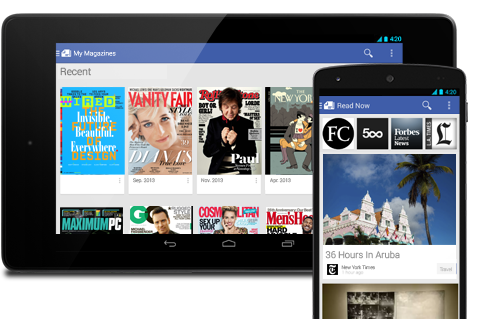 Wednesday, Google launched its latest content-aggregation app for Android–Google Play Newsstand. The app combines elements from Google Play Magazines and Google Currents to create one hub for news and information.
According to TechCrunch, The Play Newsstand currently has around 1,900 free and paid publications-including magazines, newspapers, blogs and pureplay websites. Users will have the flexibility to view free content or subscribe to premium content. The app also allows users to store content for offline viewing.
The new app is designed to better organize content based on a user's interests through a proprietary algorithm. So, like with Netflix, the more content you consume, the more the app learns about your tastes.
It's far too soon to tell if this app model will be an archetype for future newsstand apps. However, this iteration is more in line with products like Flipboard, which now has over 4 million "magazine" producers on its network.
A big problem with newsstand apps has been discoverability. Not to mention they lack the impulse-buy characteristic that traditional analog newsstands have benefited from. But with The Play Newsstand, matching relevant content to the individual user mitigates the discoverability dilemma, and could spur more impulse buys.
Like with Currents, publishers will continue to have access to tools that enables branded customized feeds."There are some basic templates to start with, along with the ability to customize the style sheet directly," product management director, Scott Dougall tells FOLIO: in an email. 
Also important to note, The Play Newsstand will roll out an iOS app early next year, which will replace Currents on the platform.
Meet the Author
---