As consumers collectively shift time towards mobile and away from desktop devices, ad sellers are also adjusting. The transition helped Facebook move past Microsoft and Yahoo! to take the spot behind Google as the second-largest digital ad seller in the U.S.
According to market forecaster eMarketer, the shift to mobile has helped redistribute revenue streams for some of the world's largest ad platforms. Google and Facebook, thanks to their dominant domestic and international presence, are major drivers and recipients of the mobile market.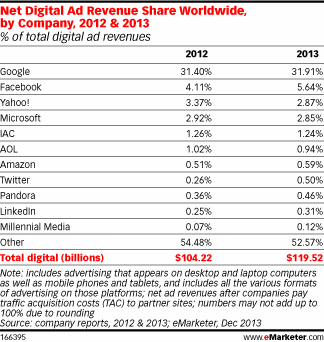 In 2013, of the net total U.S. digital ad dollars, Facebook accounted for 7.4 percent, about $3.17 billion, while Google remained the frontrunner with $17 billion. Google and Facebook are also the top two global ad publishers controlling 31.91 percent and 5.64 percent of the total market, respectively, this year.
As per eMarketer's previous reports, Yahoo! had been predicted to outpace the social network giant, but faltered as shares are now expected to decline to 5.8 percent in 2013 from 6.8 percent in 2012.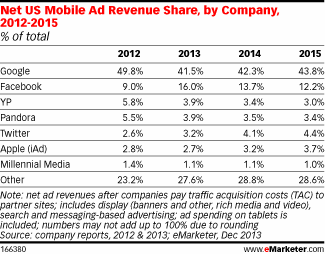 Also in the digital ad race is Microsoft, whose U.S. digital ad revenues are predicted at 5.9 percent this year, a drop from 6.2 percent in 2012. However, while Microsoft's $2.53 billion in ad revenues, including the company's Xbox and Skype subsidiaries, is projected to grow to $2.87 billion by 2015, it will not be fast enough to increase, or even hold, its market share.
As for mobile ad revenue in the U.S., Facebook increased its share to 16 percent from only 9 percent a year ago. Worldwide, Google is still the dominant force controlling 48.76 percent of the market, while Facebook accounts for 16.91 percent in 2013, up from 5.34 percent last year.
eMarketer predicts mobile ad spending to top $18.15 billion worldwide in 2013, a 105.9 percent increase from 2012's roughly $8.82 billion, to account for 15.2 percent of total ad dollars spent globally.