Good's Incredible Shrinking Magazine

Recession issue cuts trim size 80 percent, folio by 108 pages.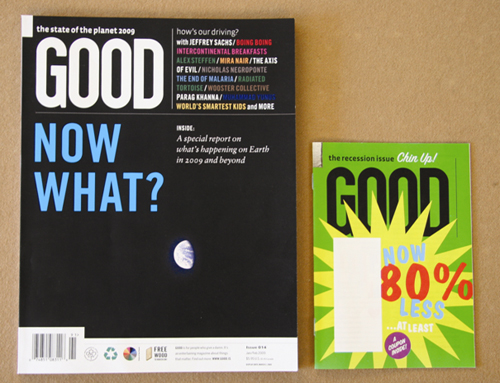 Here's one way to use the recession to your relative advantage.
Good—the for-profit magazine with a non-profit ethos—has published a "recession" issue that is 80 percent smaller than its other issues.
The 5-by-7 inch April issue (regular size: 8-3/8"x10-7/8") is just 8 pages, compared to its usual folio of 116 pages, and carries just one ad—a "coupon" created by Aveda just for the magazine.
This is a magazine that is known for doing things a little differently—like allowing subscribers to "name their own price" for a subscription to the magazine, and donates 100 percent of its subscription revenue to non-profits. Since launching two years ago, Good has donated more than $850,000.
Casey Caplowe, Good's co-founder and creative director, said the magazine saved roughly 75 percent on production costs for the recession issue.
Good for them.
Meet the Author
---