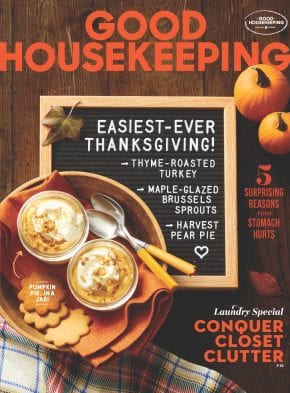 In terms of identity, Good Housekeeping has long presented itself as a relentless consumer advocate. A brand-within-a-brand, the Good Housekeeping Seal has served for more than a century as the gatekeeper of household products that live up to their marketing claims, and is one of the earliest and best-known examples of media brand licensing.
But a new century brings with it new challenges and responsibilities for manufacturers of consumer products, as evidenced by the introduction, in 2009, of the Green Good Housekeeping Seal—bestowed upon products whose claims of environmental sensitivity have similarly been vetted by the Good Housekeeping Institute.
Now, the magazine is leaning further into its efforts to promote sustainability in the household goods space, announcing the first-ever Good Housekeeping Sustainability Awards, reflecting the brand's stance that most consumer products are over-packaged, exacerbating waste and harming the environment.
"Good Housekeeping has always been about consumer protection and advocacy, helping guide consumers to make the best possible decisions for themselves," says deputy editor Laurie Jennings, who heads up the Good Housekeeping Institute. "Everyone knows about the importance of recycling, but recycling isn't the solution; it's more the solution to a symptom. Packaging feels like the next area where we can focus in a massive way to help solve this problem facing our planet."
To encourage manufacturers to adopt a less wasteful, more minimalist approach to packaging, as well as the use of more recycled and recyclable materials, this year's jury—consisting of the GH team as well as TerraCycle CEO Tom Szaky and Brown and Wilmanns Environmental managing partner Mike Brown, who helped develop the Green seal—will examine submitted products against criteria such as recyclability and the ratio of product weight to packaging weight.
Intended to become an annual franchise ("We are 110-percent committed," says Jennings), this year's awards will examine products from the cosmetics/personal care and household care/cleaning sectors as well as toys—categories where the issue appears to be most critical—with plans to expand to other types of products in the future.
"We get tons of products coming in all the time [at the Institute], and we see the waste that comes from the excess packaging," she adds. "There's room for improvement without ignoring things that are necessary for safety or efficacy."
While there exist design- and industry-focused packaging award programs, Jennings says there aren't many award programs in the U.S. devoted to sustainable packaging, and Good Housekeeping seized an opportunity to make a measurable difference.
Asked why, in an age of heightened corporate consciousness, wasteful packaging is still such an issue, Jennings says the answer is complicated. Companies need to work within the confines of their supply chain, and shifting to sustainable packaging can be costly. In other cases, they may fear turning off consumers who prefer or are accustomed to existing packaging.
"At the same time, I feel like there's a move toward simplicity and going back to basics," she continues. "If we can help guide companies toward learning from others to improve the planet and help people, then that's a real win for us."
---
---
From a business standpoint, the awards are tied to the brand's "Raise the Green Bar" summit, an annual event launched last year in response to heightened interest in sustainability among Good Housekeeping readers in recent years. Supported by major sponsors including P&G and Danone as well as the mission-driven cosmetics company Alaffia, the second annual summit, held last week at Hearst Tower, featured talks from journalist Carey Gillam, pediatrician and leading children's health advocate Philip Landrigan, and actress-turned-environmental activist Alicia Silverstone.
Like other franchises, the awards and winners will be promoted online as well as in the magazine's print issues, with entries due February 28 and winners announced ahead of next year's green summit.
"We have a massive audience of consumers who look to us to help them make decisions," Jennings adds, "and this is an area where we feel we can help wake up other companies to the fact that this matters."