Good Housekeeping to Increase Trim Size

Hearst bucks trimming trend, invests in inches.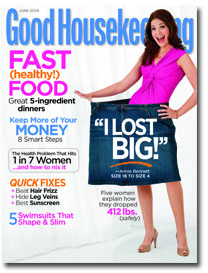 In
an effort to cut costs in the face of a brutal recession, some
magazine publishers have reduced trim sizes in recent months: Rolling Stone, which cut its trim size from 10 x 11 and 3/4 inches to a more "rack-friendly" size; Southern Breeze; and Good, which cut trim 80 percent and folio by 108 pages for a single "recession" issue.
But
Hearst has decided to increase the trim size on its (almost) 125-year-old title, Good Housekeeping, by 10 percent. The magazine will
jump from 7-7/8 x 10-1/2 inches to 8-1/4 x 10-7/8 inches beginning with
the January 2010 issue.
The larger format, editor Rosemary Ellis
says, will allow the magazine "to include even more informative content
and bigger visuals that will engage and inspire our readers."
After
testing the larger-format magazine at a higher newsstand price, Good Housekeeping will
raise its cover price to $3.49 from $2.50, while reducing its rate base
from 4.6 million to 4.3 million. Despite the cut, Good Housekeeping
remains the second-largest circulation women's monthly magazine in the
country, with Better Homes & Gardens in first place.
 
According to Good
Housekeeping's senior vice president and publisher, Pat Haegele, "a larger size really enhances the experience for our readers and it adds
to the value proposition we make to them each month."
While
some publishers continue to move toward trim reduction, Good
Housekeeping isn't the only title to buck this trend. With its
September 2008 issue, Bonnier's Skiing boosted its trim size (from 7
7/8 x 10 1/2 to 8 1/2 x 10 7/8), and raised paper quality in an effort
to make the magazine wider and taller for a more "design-driven" look.
Meet the Author
---