Last June, when The Modern Magazinist launched, I said this space would be devoted to exploring everything — important and not so important — that excites those of us who love print magazines.
Today, with summer officially under way, I thought I'd address a tossed salad of topics. Most are not terribly consequential in the overall scheme of making magazines, but aficionados of the art may see things differently.
Special issues

Special-topic issues, power lists, keepers. Worth the effort and expense? Yes, yes, and yes.
These days, probably more than ever, they play a key role in a magazine's editorial and financial vitality.
Sports Illustrated, as you may have read, is exploring ways to turn its always-popular Swimsuit Issue into more than just an annual publishing event. I don't know what they have in mind, but it makes sense to expand the Swimsuit franchise, which has been carefully nurtured over decades.
Whatever you think of the concept, you cannot deny that the Swimsuit Issue has been a huge, multi-media marketing smash for the magazine.
As an employee there, how would you argue against more, more, and plenty more of? It would take guts. Or perhaps the certainty that one's severance package would be magnificent.
There are downsides to single-topic issues, obviously. But the upsides outweigh the risks.
Another example. Last week the Janice Min-helmed Hollywood Reporter put out its annual "Most Powerful" issue, which, like many "power" specials, is bound to be well-perused among its readers and widely picked up in the general press. All to the good.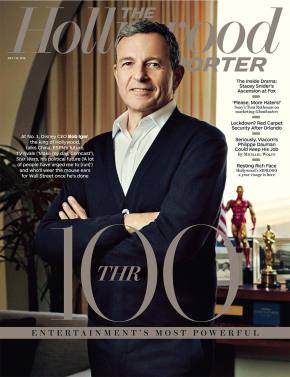 Everyone understands that ranking influence in any industry is generally a parlor game —reliable metrics seldom enter the equation — but that's absolutely part of the appeal.
You don't need to empirically prove that Mr. or Ms. Big is No. 1 this year — but if the magazine's staff comes to a consensus on the ranking, and if the magazine has earned respect in its field, then the book's anointment is all that matters.
One of my favorite special-topic issues of all time was The New Yorker's March 2, 1998 number devoted to California. It was a masterful collection of pieces, including an entire essay on the unique quality of Los Angeles' air.
I kept that magazine, as I have many others over the years, because a brilliant issue can perfectly capture a moment in time. Great magazines do this more convincingly — and, importantly, in a more timely fashion — than do hardcover books (which generally aren't nearly as filled with art, either).
Unless I've been named to one of the "Most Powerful" lists (not gonna happen), I will dispose of those books in a year's time, at most. But I'll keep on a shelf forever the extraordinary treatment of a subject that really matters to me and has been skillfully executed by a magazine's creative staff.
Folios on covers: Yes or no?

An often asked question among magazine makers: Is it smart to include folios on covers?
If yes, then should you be consistent — doing it with each and every issue? What about newsstand copies vs. subscriber copies? How prominent should the page numbers be? Where should they be located?
Those who argue against the practice say that, at least for newsstand copies, you don't want potential buyers using our guidance in a way that might subvert a sale at the checkout line. (Why buy the magazine if you can quickly find and scan the pieces that interest you?)
I've changed my mind on cover folios a dozen times over the years. If they are too large, they ruin the cover art. Too tiny and why even bother? And shouldn't readers of your magazine be encouraged — forced — to consult the TOC for navigational info?
The "pure" side of me argues against any cover folios at all. Don't befoul the carefully crafted cover art and typography. The commercial side says okay, but only two or three folios at most, and keep 'em modest in scale.
Where to position those cutlines?

Captions, cutlines — call them what you will. What matters is how you handle them. Too often they are haphazardly employed. Which is criminal, as cutlines are hugely important and probably among the best-read parts of magazines.
Have you got a set of clear design specs for their location, size, font colors and styles?
I have my preferences, of course. For example, I don't particularly care for dropping them into a picture. Or for the "read clockwise" orientation when a number of pictures have been grouped.
Nor can I find any justification for placing captions clear across the page from the art, forcing readers to make the connection in a way that seems completely unnatural and counterintuitive. (The great Vanity Fair is often a culprit on that one.)
There are scores of positioning and style options, especially when the cutline is intended to serve a grouping of pictures, illustrations, or infographics. This also means there are many opportunities to go wrong.
Any usage that makes it more difficult to connect the art to the cutline is nonsensical. This ought not be a game of "See if You Can Locate the Caption to This Particular Image."
Recently, I've seen some rather novel executions, which I think are a stretch — intended to be intriguing and unique, but not necessarily helpful. In some respects, they are cool and they are graphically inventive. But they are not helpful.
Q&A's and as-told-to's

First of all, let me state that it irks me to hear a "writer" boast about his (or her) latest "piece" for some big-brand magazine — only to discover that what he has produced is a straight interview or an as-told-to account. I hate that.
Such contributions require advance research and possibly transcription and maybe even editing skills – but they are not "pieces." Or even "writing." I have done Q&A's and as-told-to's. For money. The skill level required cannot be compared to turning in a cohesive, well-crafted narrative "piece."
OK, now that I've got that off my chest, I want to acknowledge that Q&A's and as-told-to's can be great, snappy reads, and there is a place for them in magazines. Done well, they can wonderfully capture a sense of the subject in his own voice. Indeed, that's among the main justifications for these assignments, other than, say, the need to get copy in-house super-fast or a desire for a fun one-pager to break up the edit mix.
On the other hand, if you insist that your subject be held to account on matters of importance, the Q&A usually isn't the answer. It's too slippery. More often than not, a well-reported, intelligently crafted narrative is the better way to go, journalistically.
The importance of logotypes

It may seem wrongheaded, but there's hardly a magazine that shouldn't consider tweaking, revising, or reinventing its logotype every few years.
Really? Toss all that brand equity out the window? Why?
Because, like every other part of your magazine, the logo needs to reflect present-day design sensibilities.
Time has revised its logo repeatedly over its storied history, although it has always retained a strong family identity. Same is true with many other major books. Rolling Stone, The Atlantic, Vanity Fair, Harper's Bazaar, Golf Digest, New York Magazine. You name it. It's mostly a matter of staying true to the latest vibe of your magazine while keeping it fresh.
You needn't reinvent your logo. That's generally not a good idea. (But don't discount the possibility.) Even resizing it, or modifying the kerning or beveling or what have you, can make a huge difference, and often it's the right thing to do.
Any magazine that absolutely shouldn't mess with success? Sure. The New Yorker. Other than that, it's worth regarding your logo as a dynamic piece of brand equity. Don't be afraid to think about a refresh.
Bottom line: the logo sets the tone for your entire magazine. Over the years, the world changes, your audience changes, as should your magazine ­— and therefore your logo.
Ink and drone magazines

Well, those are categories I never thought I'd see grow crowded on newsstands. Magazines that serve tattoo aficionados are, apparently, a hot thing. And suddenly, so too are books about commercial drones.
People who are fascinated by tats and drones (in some cases, both!) are probably well served by the Web. Do they require magazines too? Clearly, there are publishers that believe these markets can be expanded by offering the added value of print.
It's too soon to know if these books will flourish. But hey, let's be hopeful.
The experimenters

From time to time, magazines that have strong leadership and sound financial footing will take a flyer on a showy production feature that's way out of the box. This is often showcased right up front. Examples: plastic covers, 3-D covers, covers that talk or flash or are interactive.
Once, when I was editor of a trade, I ordered up a cover stock that was impervious to water and could not be torn. Seriously, it was nearly impossible to tear the damn stock, which was some sort of paper-nylon hybrid.
Granted, these are stunts and may not do a whole lot for some readers, but I'm just about always in favor. It's yet one more way of demonstrating what we can do with conventional magazines if we choose to go bold.
A fresh example found its way into my mailbox the other day. Audi Magazine's latest cover illuminates for a while if you first place it briefly under a light bulb. Glow-in-the-dark ink may not be a new invention, but it's delightful to see how it can be used to literally light up a magazine cover.
Whatever it takes, however nonstandard. Bravo to the freethinkers among us!