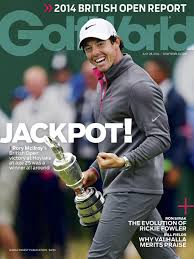 Golf World, America's oldest golf publication, announced Wednesday that it is ceasing its print operation and will transition to a digital-only format.
Golf World launched in 1947, and later it became a news companion to its monthly sister publication Golf Digest. However, the publication hasn't been performing well in recent years. Ad pages have continued to decline year-over-year, and according to min's Boxscore data, the magazine's ad pages are tracking 28.46 percent behind last year.
Frequency had also dwindled down to 31 issues, but it will be raised up to 50 in its digital format. The new digital product will be revealed on Monday, July 28.
"It's a response to the times and people's reading habits, and the changing nature of the 24-hour news cycle," Jerry Tarde, chairman of both Golf World and Golf Digest, tells AP. "The notion of a print magazine that lands a week after the action… the perspective is really good, but it's much better if it can be delivered immediately. That's what our readers' expectations are."
Editor-in-chief Jaime Diaz will retain his role, and no other staff changes have been announced. But the company did also reveal that it's expanding across the border with Golf Digest Mexico. The newest edition includes a monthly print magazine and standalone website.