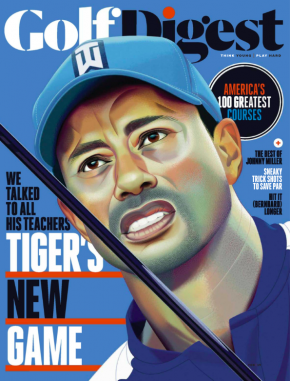 Golf Digest was sold to Discovery, Inc. on Monday.
According to a release posted on Golf Digest's website, this sale is a result of a nine-month long process that began when Condé Nast—owner of the magazine since 2001—announced it would be refocusing on its style and culture brands, which led to several titles going up on the auction block, including Brides and W.
The magazine's editorial staff, including chairman and editor-in-chief Jerry Tarde will keep their roles at Discovery, however, Tarde will take on the additional title of global head of strategy and content for Discovery Golf, which gives him editorial oversight of GOLFTV. He will report to Discovery Golf president and general manager Alex Kaplan.
While the terms of the deal were not disclosed, the New York Post reports that the sale was for an estimated $30 million.
As the fourth owner in Golf Digest's 69-year history, Discovery, who owns HGTV, Discovery Channel and Food Network, is working to establish itself as the leading golf media platform in the world, according to Discovery, Inc. president and CEO David Zaslav.
"Golf Digest is a world-class brand that has become the go-to authority for millions of golf enthusiasts, professional players and global advertisers," he said in a statement. "It's a natural strategic fit."
In addition to its live and on-demand streaming service GOLFTV—which was recently launched following a $2 billion, 12-year deal with the PGA Tour that gives Discovery the exclusive, multiplatform streaming rights to the PGA Tour, the European Tour, the Ladies European Tour and the Masters Tournament in certain territories outside of the U.S.—Discovery is looking to the magazine to provide more touch points for engaging golf enthusiast audiences, including in the e-learning space.
Golf Digest's tentpole events, like the "100 Greatest Course Rankings" and its annual "Hot List," are also expected to leverage engagement opportunities for the existing global GOLFTV audience, according to the company, which also currently has an exclusive global content partnerships with Tiger Woods.
"Discovery's vision to create one global destination for everything a golf fan could want is perfectly aligned with what Golf Digest does every day," said Tarde in a statement. "As we look to the future, Discovery's global scale and ability to light up content on all platforms and in every language, combined with the PGA TOUR's brand, will benefit golf and golfers worldwide.