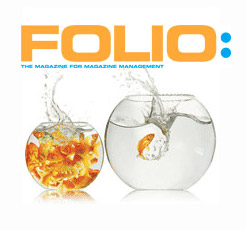 EVANSTON, Illinois—Jonathan
Dorn, editor-in-chief of Backpacker, gave the audience at the Independent
Magazine Group's conference here a rundown of his magazine's full carbon footprint audit,
during which he measured its consumption of everything from paper and
ink to paper clips and pencils.
As a result, Dorn said
Thursday, Backpacker was able to reduce its carbon usage by 12 percent from
2007 to 2008 and now runs a "more efficient and profitable business."
Staff travel,
at 9 percent of the total, was a surprisingly large contributor to the magazine's
carbon footprint. "Airplane travel is devastating," Dorn said. But the biggest
opportunity to slash the magazine's CO2 usage was in paper, which took up 48
percent of Backpacker's footprint in 2007. Backpacker switched to a high-bulk,
lower basis weight paper stock, which he says also had a "pass-along value in
printing and distribution."
Backpacker
found that printing itself, which accounted for 8 percent of the total
footprint, "is so highly efficient that it doesn't present a significant
opportunity by itself."
Distribution,
on the other hand—26 percent of the title's total carbon usage in 2007—is an
enormous opportunity, but newsstand struggles still weigh it down. (When asked
what Backpacker was doing to offset widespread inefficiencies at the newsstand,
Dorn humbly admitted that the ambitiously environmentally-conscious magazine
hadn't found any solutions.)
Marilynn
Jacobs, vice president of marketing for Quebecor World's magazine division, said the company is working with the USPS on an initiative to have mail carriers collect
unsold magazines and return them to the printer for shredding and recycling.
Dorn
challenged every attendee to take the first steps in recognizing and reducing
their businesses' impact on the environment, even if a full, Backpacker-style
audit isn't a viable option. Some simpler suggestions include installing power
strips, moderating heat and air conditioning levels, creating a staff commuting
benefit, reducing travel, switching to a lighter or recycled paper stock—and,
of course, recycling.
[EDITOR'S
NOTE: Check FOLIOmag.com throughout the week for news and posts from the IMAG
conference.]